Biography
Scott advises individuals, OMBs, SMEs and corporates in relation to a wide range of corporate matters, including acquisitions and disposals, joint ventures, investments, employee share schemes and family investment companies.
He specialises in advising clients in relation to the following sectors: technology, professional services, creative media, private wealth and charities.
Scott is ranked in both current editions of the Legal 500 and Chambers and Partners UK.
Scott joined Myerson from Mills & Reeve. Prior to this he was a Partner at George Davies Solicitors before its merger with Mills & Reeve in 2013. Scott was also previously a Partner at JMW Solicitors.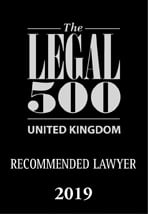 Expertise and Past Cases
Scott's sectors of expertise include technology, private wealth, charities, and professionals (including advising accountants, solicitors, architects and medical specialists). He advises clients on:
Acquisitions and disposals of businesses and companies in various sectors, including technology and professional services;
Shareholder arrangements and joint ventures – Scott has throughout his career advised clients on shareholders agreements (as well as partnership and limited liability partnership agreements) in various sectors, especially technology and property joint ventures;
Restructuring of corporate entities (companies and limited liability partnerships), including re-organisations and de-mergers (eg. three cornered demergers and insolvency act demergers). He works closely with the client's tax/financial advisors with regard to setting up and changing complex corporate structures;
Equity investments in companies. Scott is experienced in advising companies seeking investment as well as acting for individuals looking to invest in new opportunities, including university spin-outs;
Complex debt finance with banks, whether as part of an acquisition or seeking development funding for a new project;
Family investment companies – Scott is a leading advisor in the North-West in relation to establishing family investment companies or converting existing structures/assets into a family investment company;
Share option and incentive schemes – whether you are looking to incentivise individuals by way of shares (such as EMI option schemes) or a long term incentive scheme (LTIP), Scott has many years of experience in advising and drafting such schemes;
Commercial matters, including advising on setting up corporate structures for commercial businesses, especially in the technology sector as well as advising on commercial, software and IT contracts and protection and exploitation of intellectual property rights,.
Recent instructions include:
Raising £25m for a property developer from a challenger bank recently moving to the North-West to carry out 2 large property developments in Manchester;
Establishing a number of family investment companies (FICs) for clients. It is estimated that the FICs set up by Scott in 2018 alone held assets in the region of £11m;
In the healthcare sector, Scott advised on a joint venture between a private hospital and leading surgical unit in the North-West to set up a specialist unit at a new hospital in Manchester;
Scott recently advised a £5m turnover accountancy practice in relation to its merger and consolidation with Xeinadin Group Limited, a new accountancy consolidator;
Three cornered demergers by way of share capital reductions. Scott has advised 2 public limited companies in relation to demergers, in one case to split 2 existing trades into different sectors and the other to remove a property from the group.
Specialist Areas
Our legal services are underpinned by our knowledge and expertise in the following areas.