Our Commercial Property Service
Our Real Estate solicitors are part of one of the largest real estate teams in the North West, and we operate throughout England and Wales. The commercial property team is led by four partners and offers a wealth of property expertise, as demonstrated by our ranking in the Legal 500 for the last seven years.
Our commercial property lawyers specialise in every aspect of commercial property law, and we offer bespoke, expert advice to all of our real estate clients. Whether you are a property investor, a small business owner, a large business owner, a developer, or you own a portfolio of commercial properties, our commercial property solicitors will provide excellent advice in line with the Myerson Promise.
Our commercial property lawyers can help you with a wide range of commercial property issues, including:
Myerson Property Portal
The Myerson Property Portal is a free tool for property investors and professionals.
With the Myerson Property Portal, you gain a competitive edge in the rapidly evolving property landscape.
Our free portal will help you manage your properties with ease and efficiency by providing a seamless service wherever you are.
Not just a management tool, it's an essential companion for the modern investor seeking to optimise their portfolio while staying updated on the latest in the property world.
So, what are the benefits?
Your own client area,

giving you access to all your legal documents, conveniently accessible anytime, anywhere!

Key legal information at your fingertips.
Must read property news, blogs and videos.
Access to free property events and training workshops.
A comprehensive collection of helpful property documents and guides.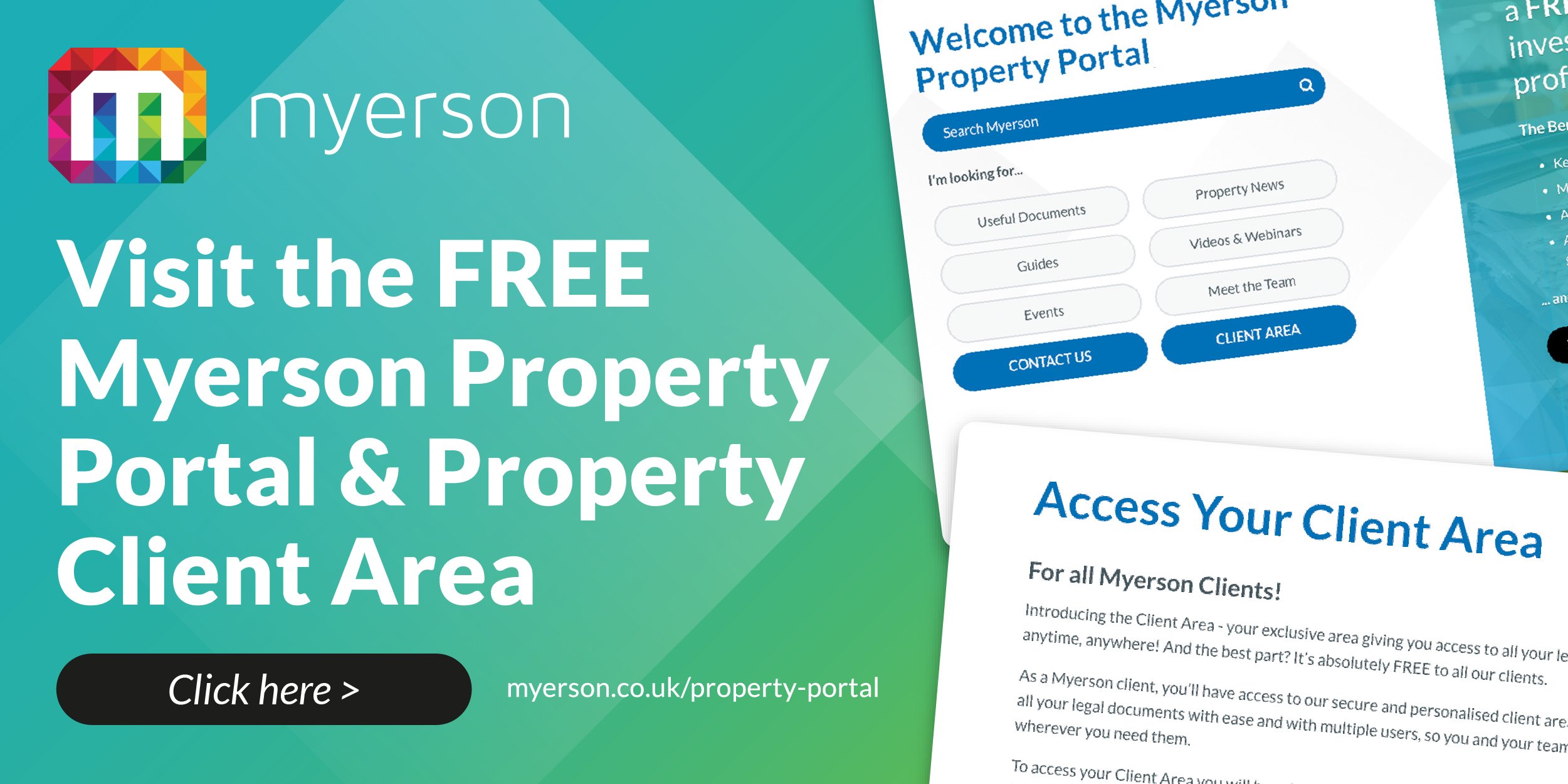 Why Work with Our Commercial Property Team?
We have been ranked as a top-tier law firm by the Legal 500 for the last seven years.
Property investors and professionals can access our free and informative Property Portal.
You will have access to more than 30 property experts across the Myerson Property Group, including commercial property, property litigation, construction, residential property conveyancing and development.
You will receive city-quality commercial property legal advice at regional prices.
We provide a partner-led service to ensure you receive the very best legal advice and commercially minded support.
Our real estate lawyers are part of a large team which is capable of meeting your deadlines.
Our commercial property lawyers understand that each transaction is bespoke to your individual circumstances and that you need support from a real estate solicitor who is experienced in dealing with a wide variety of clients and types of work.
Our full-service law firm operates from a one-site office, which means our teams communicate effectively and efficiently.
We use the latest technology to ensure that we are working as efficiently as possible, and that geographical distance is no bar to us from providing excellent client service.
We were the winners of 'Property Team of the Year 2021' at the Manchester Legal Awards.
We provide free newsletters and webinars to all our clients to keep you up-to-date with the real estate sector and changes in the law. Watch our latest property update webinar here.
The Myerson Annual Property Update 2023
Commercial Property Case Studies
Sale of Client's interests in Lime Square, Manchester
Our real estate solicitors acted in connection with the sale of most of our client's interest in Lime Square, Openshaw, Manchester, to an institutional investor in a multi-million-pound deal. Lime Square is a multi-let food and non-food retail/leisure park occupied by tenants such as B&M, Poundland, Costa, The Gym, Greggs and Farm Foods. The transaction was complex and involved the disposal of our client's interest in approximately 30 leases and a lease back to our client of parts of the site.
refinancing and redevelopment of the flagship One and Two Express buildings in Ancoats, Manchester.
Akzo Nobel Group
Our real estate lawyers have acted for the Akzo Nobel Group for over ten years, and we currently deal with all of their property requirements. In recent times, this has been particularly focused on the company's retail expansion plan for its Dulux Decorator Centre brand. We worked with landowners and developers to secure new sites/relocation sites on the completion of either initial construction or redevelopment work.
Promotion of a substantial parcel of greenfield land for residential development
Our commercial property solicitors acted on behalf of a land promoter client in relation to the promotion of a substantial parcel of greenfield land for residential development. We subsequently acted for both the promoter and the landowner in connection with the sale to Taylor Wimpey for a substantial eight-figure sum. The site provided for approximately 1,600 new homes and 55 acres of employment land.
Our Commercial Property Team
Home-grown or recruited from national, regional or City firms. Our commercial property solicitors are experts in their fields and respected by their peers.
Contact Myerson Solicitors
Complete the form below, or alternatively, you can call Myerson Solicitors on: