Our Commercial Development Service
At Myerson, our award-winning team will assist you with all aspects of your commercial development.
Our commercial property lawyers believe that development projects are team efforts, both internally within our real estate team and, more importantly, with our clients, their contractors and their professional teams.
Our commercial development solicitors know that one of your prime concerns is likely to be timescales and managing cash flow. Our team is responsive and proactive and will work to solve any problems quickly to avoid funding gaps and keep your project on track.
Our commercial land development lawyers are experts in all aspects of commercial development and will work with you to achieve your objectives, whatever the size of your project and your level of experience.
We provide a truly start to finish service and can advise you on projects from site assembly, through to the construction, delivery and sale or letting of completed units.
Myerson Property Portal
The Myerson Property Portal is a free tool for property investors and professionals.
With the Myerson Property Portal, you gain a competitive edge in the rapidly evolving property landscape.
Our free portal will help you manage your properties with ease and efficiency by providing a seamless service wherever you are.
Not just a management tool, it's an essential companion for the modern investor seeking to optimise their portfolio while staying updated on the latest in the property world.
So, what are the benefits?
Your own client area,

giving you access to all your legal documents, conveniently accessible anytime, anywhere!

Key legal information at your fingertips.
Must read property news, blogs and videos.
Access to free property events and training workshops.
A comprehensive collection of helpful property documents and guides.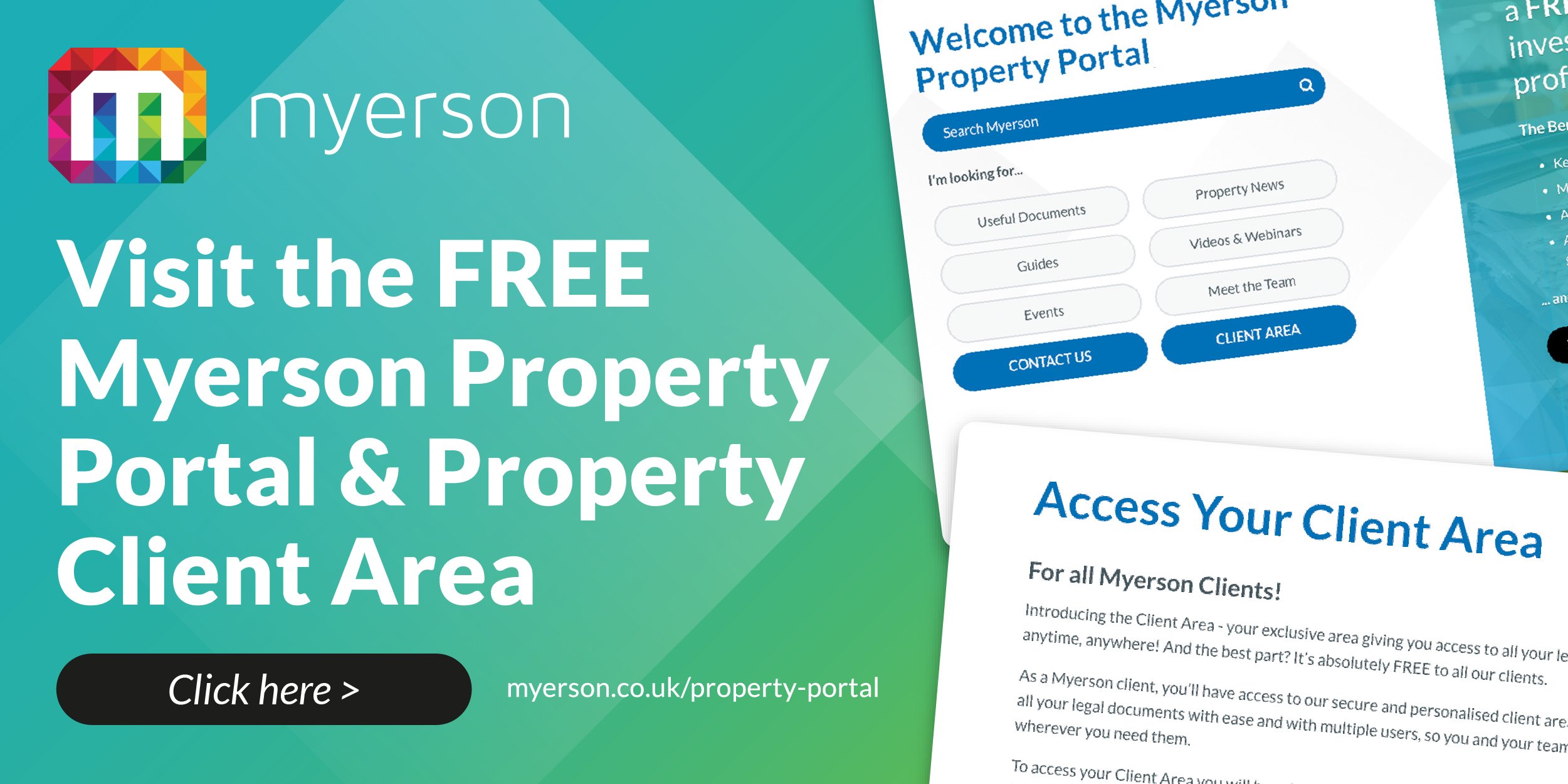 Why Work With Us?
We have been ranked as a Top Tier law firm by the Legal 500 for the last seven years.
Property investors and professionals can access our free and informative

Property Portal.
You will have access to more than 30 property experts across the Myerson Property Group, including commercial property, property litigation, construction, residential property conveyancing and development.
You will receive city-quality commercial property legal advice at regional prices.
We provide a partner-led service to ensure you receive the very best legal advice and commercially-minded support.
We have a large team which is capable of meeting your deadlines.
We understand that each transaction is bespoke to your individual circumstances and that you need support from a property lawyer who is experienced in dealing with a wide variety of clients and types of work.
We are a full-service law firm operating from a one-site office, which means our teams communicate effectively and efficiently.
We use the latest technology to ensure that we are working as efficiently as possible and that geographical distance is no bar to us from providing excellent client service.
We were the winners of 'Property Team of the Year 2021' at the Manchester Legal Awards.
We provide free newsletters and webinars to all our clients to keep you up to date with the real estate sector and changes in the law. Watch our latest property update webinar here.
Our Commercial Development Experience
Acting for the developer of 2 St Peter's Square, Manchester. The scheme provided over 160,000 square feet of grade "A" office space over 11 floors with ground-floor retail and basement undercroft parking and services facilities. We have worked with the owner/developer in facilitating the site assembly, obtaining vacant possession, dealing with a party wall, rights of light and oversailing issues as well as the actual demolition and reconstruction of the building, working particularly closely with the landlord's construction and professional team.
Acting for a developer to assemble a site with planning consent designed to construct an environmentally friendly holiday home facility in ancient woodland in Cornwall.
Acting for the landlord of Sevendale House, Manchester in connection with the redevelopment of the property and the subsequent letting of the office space. The offices are spread over five floors. A variety of leases have been granted at the office complex including a substantial lease of several floors to Ticketmaster UK and also smaller office suites of around 1,000 square feet to small businesses.
Dealing with the site assembly of a large brownfield regeneration site in the West Midlands. The site was assembled using a combination of conditional contract and option agreements and included addressing a number of complicated issues such as the remediation of the site and the absence of title to a strip of land running through the middle of the site.
Acting for an owner-occupier in connection with the development of a 30,000 square feet building to house its rapidly expanding staff numbers including dealing with the land acquisition and construction of the building and associated services.
Acting for the developer in connection with the redevelopment of a town centre anchored by a retail supermarket. This included dealing with the site assembly from a number of different landowners, liaising with the Local Authority and securing public realm works, putting in place an Agreement for Lease with the supermarket operator, dealing with the funding of the development and the forward sale to a pension fund.
Our Commercial Property Team
Home-grown or recruited from national, regional or City firms. Our commercial property solicitors are experts in their fields and respected by their peers.
Contact Myerson Solicitors
Complete the form below, or alternatively, you can call Myerson Solicitors on: