Our Property Litigation Service
We are the firm of choice for both landlord and tenants of commercial properties. We are experts in resolving all aspects of property disputes and providing positive outcomes.
We are proud to act on behalf of a wide range of clients be they property owners, landlords or tenants in connection with commercial and residential property disputes.
Our specialist, dedicated team of property dispute solicitors have in-depth knowledge and skills and a wealth of expertise in both in bringing and defending complex and high-value matters.
We predominantly act for landlords, tenants, surveyors, developers and property management companies across the UK. Whether you are a commercial or residential landlord or tenant we offer high standards of professionalism and a wealth of experience and can advise you in relation to any dispute that arises.
The team were recognised and awarded 'Property Team of The Year' at the Manchester Legal Awards 2021.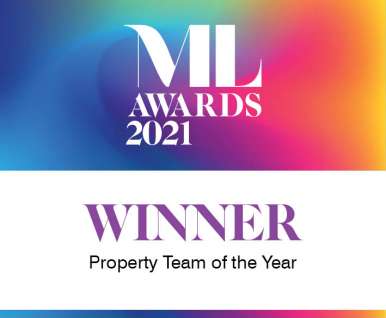 About Myerson
Our specialist property litigation lawyers understand that a property dispute can arise at any time, which is why we act fast on resolving your property dispute.
We work with you to define the steps in which we will need to take and provide you with a clear roadmap on how we will resolve your dispute.
We always aim to provide the most suitable method of dispute resolution available and we avoid conflict where necessary. However, if needed we will fight your corner and work towards getting you the result you desire.
We ensure that you are kept up-to-date on your matter throughout the process, giving updates on both the progress of your matter and costing updates.
We have the support of our wider property group team which includes commercial property, construction and residential. This means that you can be assured you will always be covered regardless of the context or complexity of your dispute.
Meet Our Specialists
Home-grown or recruited from national, regional or City firms. Our specialists are experts in their fields and respected by their peers.
Contact Us
You can contact a member of our team using the contact form below or by phoning us on
Latest News & Insights
Keep up-to-date with the latest legal news and our expert opinion.