Our Property Litigation Service
Our Property Litigation lawyers are one of the few dedicated property litigation teams in the North West. We operate throughout England and Wales and are recognised in Legal 500 for our expertise.
We specialise in every aspect of property dispute law and will enforce your legal rights and recover compensation for your property claim.
Whether you are a property investor, small or large business owner, a commercial property landlord, a commercial property tenant, a developer, or you own a portfolio of commercial properties, we will provide excellent advice in line with the Myerson Promise.
We can help you with a wide range of property dispute issues, including:
Why Work With Our Property Litigation Team
We have been ranked as a top-tier law firm by the Legal 500 for the last seven years.
You will have access to more than 30 property experts across the Myerson Property Group, including commercial property, construction, residential property conveyancing and development.
You will receive city-quality commercial property legal advice at regional prices.
We provide a partner-led service to ensure you receive the best legal advice and commercially-minded support.
We have a large team which is capable of meeting your deadlines.
We understand that each transaction is bespoke to your individual circumstances and that you need support from a property lawyer who is experienced in dealing with a wide variety of clients and types of work.
We are a full-service law firm operating from a one-site office, which means our teams communicate effectively and efficiently.
We use the latest technology to ensure that we are working as efficiently as possible and that geographical distance is no bar to us from providing excellent client service.
We were the winners of 'Property Team of the Year 2021' at the Manchester Legal Awards.
We provide free newsletters and webinars to all our clients to keep you up to date with the real estate sector and changes in the law. Watch our latest property update webinar here.
Case Studies
Case Study - landlord of a significant portfolio of commercial properties.
Client Intro:
Our client is a landlord of a significant portfolio of commercial properties.
Case Overview:
One of the properties is located in Northumberland and was leased to Marks & Spencer's PLC (M&S). M&S assigned the lease to The Factory Shop Limited, and M&S entered into a Deed of Guarantee and Indemnity in respect of that assignment.
The Factory Shop entered into a CVA, and the CVA included provision for the surrender of the lease and compromised the company's liability for terminal dilapidations.
The CVA cut down M&S's secondary obligations in the guarantee meaning that M&S's had no liability under the guarantee in respect of the terminal dilapidations, but the CVA could not and did not cut down M&S's primary obligations in the guarantee meaning that M&S remained liable for the dilapidations in full as if the CVA had not existed.
The lease was subsequently surrendered, and our client moved to address terminal dilapidations, carrying out repair works to the value of £130,000
Laura Pile, a Partner in the Property Litigation team, said, "This was a complex matter where we argued that the CVA did not compromise the indemnity."
Case Study 2 - management of commercial property portfolio
Client Intro: Akzo Nobel, Imperial Chemical Industries and Dulux Decorator Centres
Our client has a multimillion-pound rental portfolio across England and Wales
Case Overview:
We regularly advise our client in relation to the management of their commercial property portfolio. This includes lease renewals, dilapidations claims, landlord/tenant covenants, rent reviews and break rights.
Laura Pile, a Partner in the Property Litigation team, said this type of work demonstrates our capabilities in commercial portfolio management for blue chip corporations.
Case Study 3 - commercial landlord and property developer
Client Intro: Philip J Davies (Holdings) PLC
Our client is a commercial landlord and property developer.
Case Overview:
Philip J Davies (Holdings) PLC held the reversion to a long lease of an entire building that had been rented to Carillion. Carillion had underlet part of the building to a charity.
Carillion entered liquidation, and the liquidators disclaimed the head lease, leaving the undertenant in occupation, but its right to occupy was affected by the disclaimer.
We advised our client regarding their options, given a possible re-letting of the entire premises to a school (which was the condition upon the charity vacating).
Avoiding the situation where the charity became a periodic tenant or sought a vesting order, our client forfeited the charity's under lease and granted them a license to occupy, which enabled the charity time to find alternative accommodation and enabled our client to secure vacant possession which enabled the reletting of the entire building to the school.
Case Study 4 - landlord of commercial property
Client Intro: Marnshaw Limited
Our client is a landlord of commercial property.
Case Overview:
Our client leased commercial premises to Andrew Page Limited (car parts supplier).
The tenant entered administration. The administrators agreed to sell the assets of the tenant company to Euro Car Parts, a deal which was called in by the Competitions and Market Authority.
The administrators allowed an SPV of Euro Car Parts to enter into occupation of the premises without consent and began trading.
Our client had a new tenant ready to take a new lease on the premises where the SPV was in occupation and trading. We invited the administrators to surrender the lease or, in the alternative, allow our client to bring forfeiture proceedings. They refused both.
Our client brought proceedings against the tenant in administration, at which point the administrators agreed to surrender, thereby enabling our client to rent out the property to the new tenant.
Case Study 5- Commercial property landlord
Client Intro: Monckton Properties Limited
Our client is a landlord of a number of commercial properties.
Case Overview:
Our client is the landlord of a commercial property in Knutsford Cheshire. The property was let to Tesla Motors Limited who purported to exercise a break option contained in the lease.
The tenant failed to adhere to the conditions of the break so our client issued proceedings for a declaration that the lease is subsisting and a monetary claim for sums due and owing to them. The matter was settled fairly early on in the litigation and it was a good result for our client.
Myerson Property Portal
The Myerson Property Portal is a free tool for property investors and professionals.
With the Myerson Property Portal, you gain a competitive edge in the rapidly evolving property landscape.
Our free portal will help you manage your properties with ease and efficiency by providing a seamless service wherever you are.
Not just a management tool, it's an essential companion for the modern investor seeking to optimise their portfolio while staying updated on the latest in the property world.
So, what are the benefits?
Your own client area,

giving you access to all your legal documents, conveniently accessible anytime, anywhere!

Key legal information at your fingertips.
Must read property news, blogs and videos.
Access to free property events and training workshops.
A comprehensive collection of helpful property documents and guides.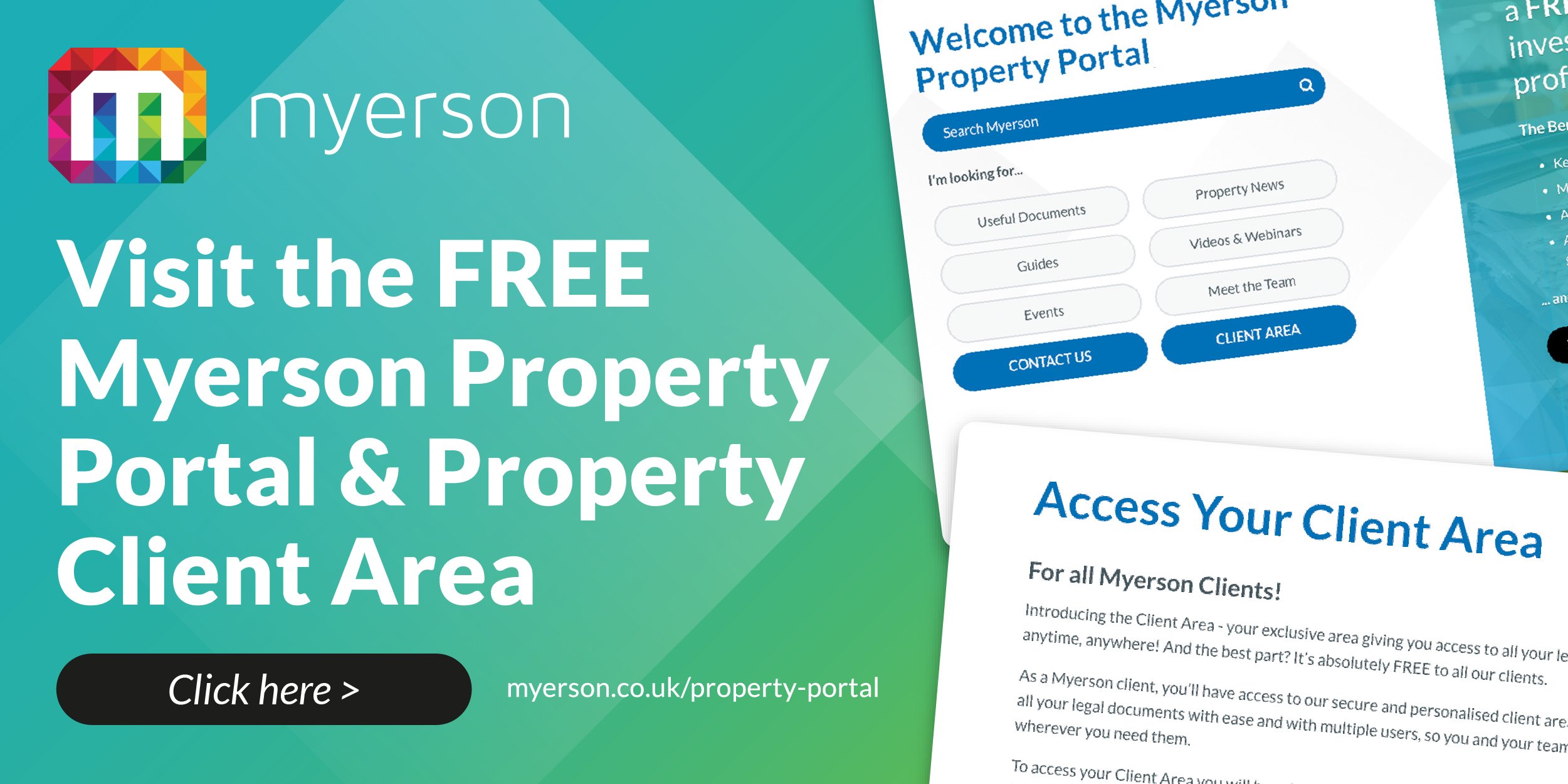 The Myerson Annual Property Update 2022
Our Property Litigation Team
Home-grown or recruited from national, regional or City firms. Our specialists are experts in their fields and respected by their peers.
Contact Myerson Solicitors
Complete the form below, or alternatively, you can call Myerson Solicitors on: