How We Can Help with Commercial Rent Arrears
Myerson's property litigation solicitors can help with the following:
Advise you on the different options available for commercial rent arrears recovery.
Prepare the relevant documentation depending upon how you decide to proceed, including letters of claim, Court proceedings, statutory demands, and section 17 notices.
If a Judgment is obtained, we can advise you on your options and take steps to enforce the Judgment.
Liaise with bailiffs in relation to the recovery of the sums due to you.
As an owner of a commercial premises, we recognise you want to recover your rent on time.
If there are commercial rent arrears, we will act promptly to recover them for you.
We will consider your circumstances and advise you on the best option to recover what is owed.
Myerson Property Portal
The Myerson Property Portal is a free tool for property investors and professionals.
With the Myerson Property Portal, you gain a competitive edge in the rapidly evolving property landscape.
Our free portal will help you manage your properties with ease and efficiency by providing a seamless service wherever you are.
Not just a management tool, it's an essential companion for the modern investor seeking to optimise their portfolio while staying updated on the latest in the property world.
So, what are the benefits?
Your own client area,

giving you access to all your legal documents, conveniently accessible anytime, anywhere!

Key legal information at your fingertips.
Must read property news, blogs and videos.
Access to free property events and training workshops.
A comprehensive collection of helpful property documents and guides.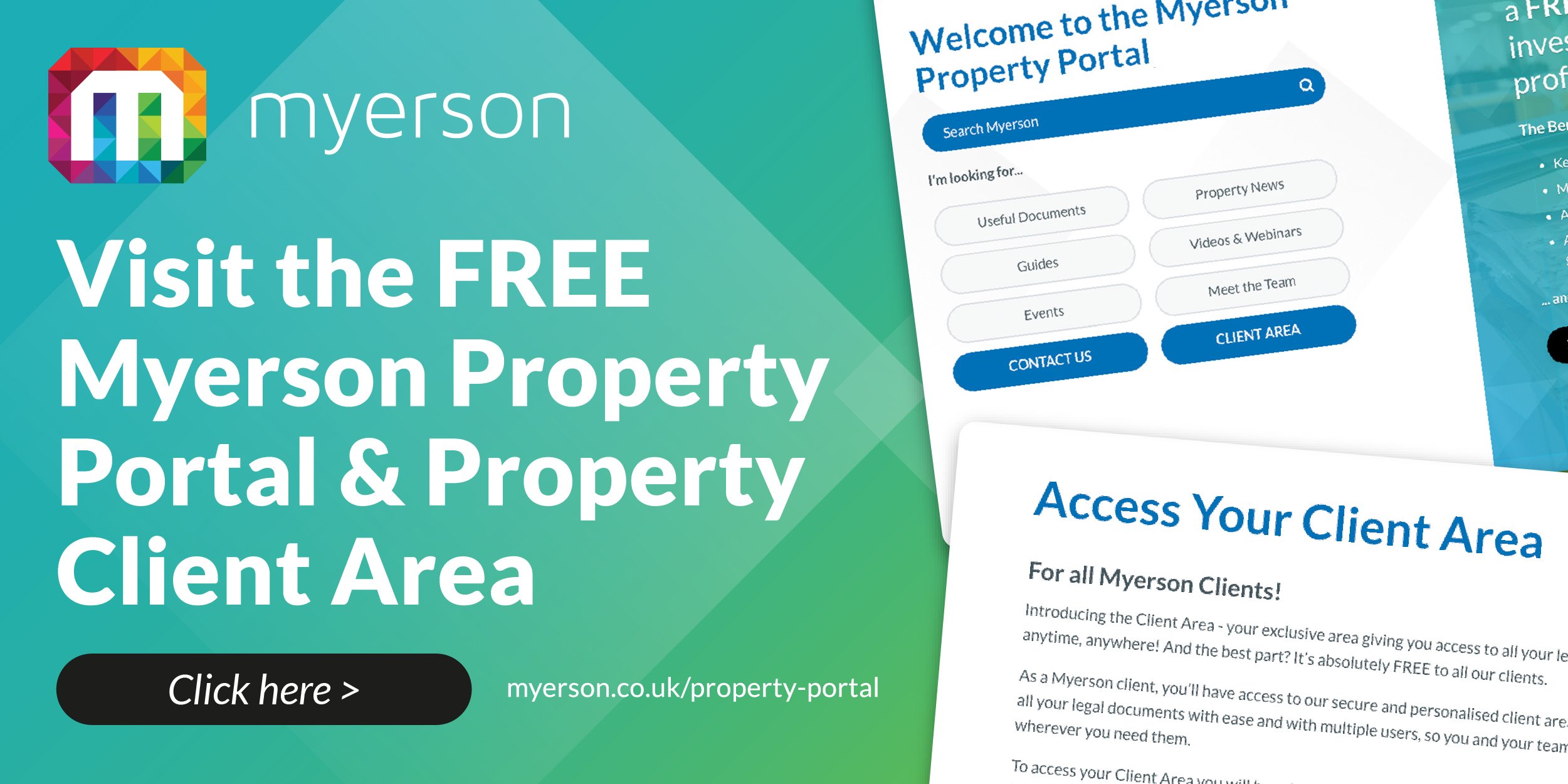 Options for Commercial Rent Arrears Recovery
If you are a commercial landlord or own commercial premises, various methods will help you take control and recover payment of rent.
The options available are:
Forfeiture of a commercial lease
A commercial lease may contain a forfeiture clause, allowing the landlord to exert their right to forfeit and terminate the lease under certain conditions.
If the stipulated conditions in this clause are met, the landlord has the right to "peaceably re-enter" the premises—essentially, this involves entering the vacant property and changing the locks to assert control.
Tenant eviction via possession claim
When a landlord cannot execute peaceable re-entry for lease forfeiture, the next step is to obtain a possession order from the courts. This legal order is an alternative means to terminate the lease.
It's important to note that residential tenants have extensive legislative protections.
Statutory demand and insolvency
Landlords can serve a statutory demand if there's a contention regarding rent arrears.
The outstanding rent arrears should exceed £750 for corporate tenants or £5,000 for individual tenants.
Failure to settle the debt within 21 days empowers the landlord to issue a winding-up order against companies or initiate bankruptcy proceedings against individuals.
A winding-up petition or bankruptcy
In recovering commercial rent arrears, landlords have two major insolvency options.
If the tenant is a company, landlords can file a winding-up petition, leading to potential liquidation of the company's assets to settle debts.
If the tenant is an individual, the landlord can initiate bankruptcy proceedings, resulting in the sale of the individual's assets to repay outstanding obligations.
Both methods aim to ensure landlords reclaim their due rent.
Commercial Rent Arrears Recovery (CRAR)
The CRAR (Commercial Rent Arrears Recovery) approach enables commercial landlords to authorise an enforcement agent to seize and potentially sell their tenant's assets.
This action aims to recover an amount corresponding to the outstanding rent.
By utilising Commercial Rent Arrears Recovery, landlords have a direct approach to recouping owed sums, ensuring that rental agreements are honoured, and financial losses minimised.
Engaging a sub-tenant
If a tenant has sublet the property, landlords have an additional recourse.
They can mandate the sub-tenant to pay rent directly to them, bypassing the defaulting primary tenant.
To legally bind the sub-tenant, the landlord must serve them with a formal notice.
Seeking remedy from a guarantor or former tenant
In instances where a lease specifies a guarantor or former tenants remain liable after assigning the commercial lease, the landlord can hold them accountable for rent arrears.
If needed, legal action can be initiated against these parties.
Accessing a rent deposit
If a security deposit is in place, the landlord can access these funds after notifying the commercial tenant.
However, since tenants are unlikely to repay the deposit, this tactic is typically a last-ditch effort to take control of goods.
Court proceedings to recover rent arrears
Commercial landlords can use court proceedings to begin commercial rent arrears recovery.
By initiating legal action against defaulting tenants, landlords can secure a judgment mandating payment of the outstanding amount.
A favourable ruling permits the landlord to employ enforcement mechanisms, like property seizures, ensuring they recover their owed rent.
Restrictions of Commercial Rent Arrears Recovery
Commercial landlords should be aware of potential restrictions which may limit their ability to recover rent arrears.
Myerson's Property Litigation team understand the legal restrictions and can help ensure commercial rent arrears recovery (CRAR) is actioned.
The following limitations apply:
Landlords cannot utilise commercial rent arrears recovery for properties that have both commercial and residential spaces under a single lease, such as pubs or stores with apartments above. Landlords should have distinct leases for the residential sections of their properties.
There must be a formal written lease to apply certain recovery methods, such as Commercial Rent Arrears Recovery (CRAR). If landlords only have an informal agreement, they may be unable to use this method.
The outstanding rent should be equivalent to a minimum of seven days.
Commercial rent recovery only covers the recovery of rent; additional costs like service charges or insurance are not included, even if they're categorised as rent in the lease.
Landlords can only claim assets owned by the debtor, excluding personal or professional-use items up to a combined value of £1,350.
The seizure is limited to assets equivalent to the owed rent's value.
A seven-day notice is mandatory before auctioning the seized assets unless the items would depreciate significantly or become unsellable. Additionally, a notice of enforcement containing key information must be given to the commercial tenant at least seven days prior to the control of goods.
If there are sub-tenancies, landlords can direct the sub-tenant to pay the rent directly to them after giving a 14-day notice.
Why Work With Our Property Litigation Team
We have been ranked as a top-tier law firm by the Legal 500 for the last seven years.
You will have access to more than 30 property experts across the Myerson Property Group, including commercial property, construction, residential property conveyancing and development.
You will receive city-quality commercial property legal advice at regional prices.
We provide a partner-led service to ensure you receive the best legal advice and commercially-minded support.
We have a large team which is capable of meeting your deadlines.
We understand that each transaction is bespoke to your individual circumstances and that you need support from a property lawyer who is experienced in dealing with a wide variety of clients and types of work.
We are a full-service law firm operating from a one-site office, which means our teams communicate effectively and efficiently.
We use the latest technology to ensure that we are working as efficiently as possible and that geographical distance is no bar to us from providing excellent client service.
We were the winners of 'Property Team of the Year 2021' at the Manchester Legal Awards.
We provide free newsletters and webinars to all our clients to keep you up to date with the real estate sector and changes in the law. Watch our latest property update webinar here.
Annual Property Update | Video
Commercial Rent Arrears FAQs
Can I get my unpaid rent and my property back at the same time?
To regain unpaid rent and possession of a property during the fixed term of an Assured Shorthold Tenancy (AST), a landlord can issue a Section 8 notice.
The Section 8 notice informs the tenant of the landlord's intention to reclaim the property and specifies the grounds for this action.
Before eviction, the landlord must obtain a court-issued possession order.
To proceed, the landlord must correctly format the Section 8 notice detailing the specific grounds for possession and the reasons for their invocation.
Errors in the notice can cause delays in reclaiming the property.
I want my unpaid rent but don't want to evict my tenant. What do I do?
Instead of eviction, landlords can consider pursuing rent arrears through a claim in the County Court.
A successful claim results in the court mandating the tenant to settle the arrears.
Such a County Court Judgment can adversely impact the tenant's credit score and future tenancy prospects, motivating them to avoid this outcome.
If the tenant fails to comply with the court's order, several enforcement options are available to the landlord.
My tenant has left the property while still owing me rent; what can I do?
If your commercial tenants have left the property owing rent, first try reaching out to them directly to discuss an amicable repayment plan.
Review your tenancy agreement for any stipulations about security deposits or guarantors, which might provide avenues for recovery.
If communication fails, consider employing a debt collection agency or taking legal action through the County Court.
A successful claim can result in a County Court Judgment against the tenant, mandating them to repay the arrears.
Remember to gather all relevant documentation, such as rental agreements and payment records, to strengthen your position.
Our Property Litigation Team
Home-grown or recruited from national, regional or City firms. Our specialists are experts in their fields and respected by their peers.
Contact Myerson Solicitors
Complete the form below, or alternatively, you can call Myerson Solicitors on: