Our Commercial Lease Service
Our highly experienced commercial property team specialises in drafting and negotiating commercial leases for landlords and tenants. We offer personalised advice, meticulously detailing lease terms.
Understanding your obligations and liabilities is crucial, and we simplify what may seem complex, keeping you fully informed throughout the process.
With a Tier 1 ranking from the Legal 500 for the past seven years, we excel in crafting lease documents that protect your business interests.
Our expert commercial lease solicitors provide tailored, clear, and practical advice. With extensive local, regional, and national experience, we handle a wide array of commercial letting and estate management transactions.
Whether you're an established tenant with numerous units or embarking on your first business venture, our commercial lease solicitors are here to assist.
Our commercial property lawyers handle commercial leases for diverse property types, including shops, offices, manufacturing sites, industrial units, and restaurants or cafes.
Myerson Property Portal
The Myerson Property Portal is a free tool for property investors and professionals.
With the Myerson Property Portal, you gain a competitive edge in the rapidly evolving property landscape.
Our free portal will help you manage your properties with ease and efficiency by providing a seamless service wherever you are.
Not just a management tool, it's an essential companion for the modern investor seeking to optimise their portfolio while staying updated on the latest in the property world.
So, what are the benefits?
Your own client area,

giving you access to all your legal documents, conveniently accessible anytime, anywhere!

Key legal information at your fingertips.
Must read property news, blogs and videos.
Access to free property events and training workshops.
A comprehensive collection of helpful property documents and guides.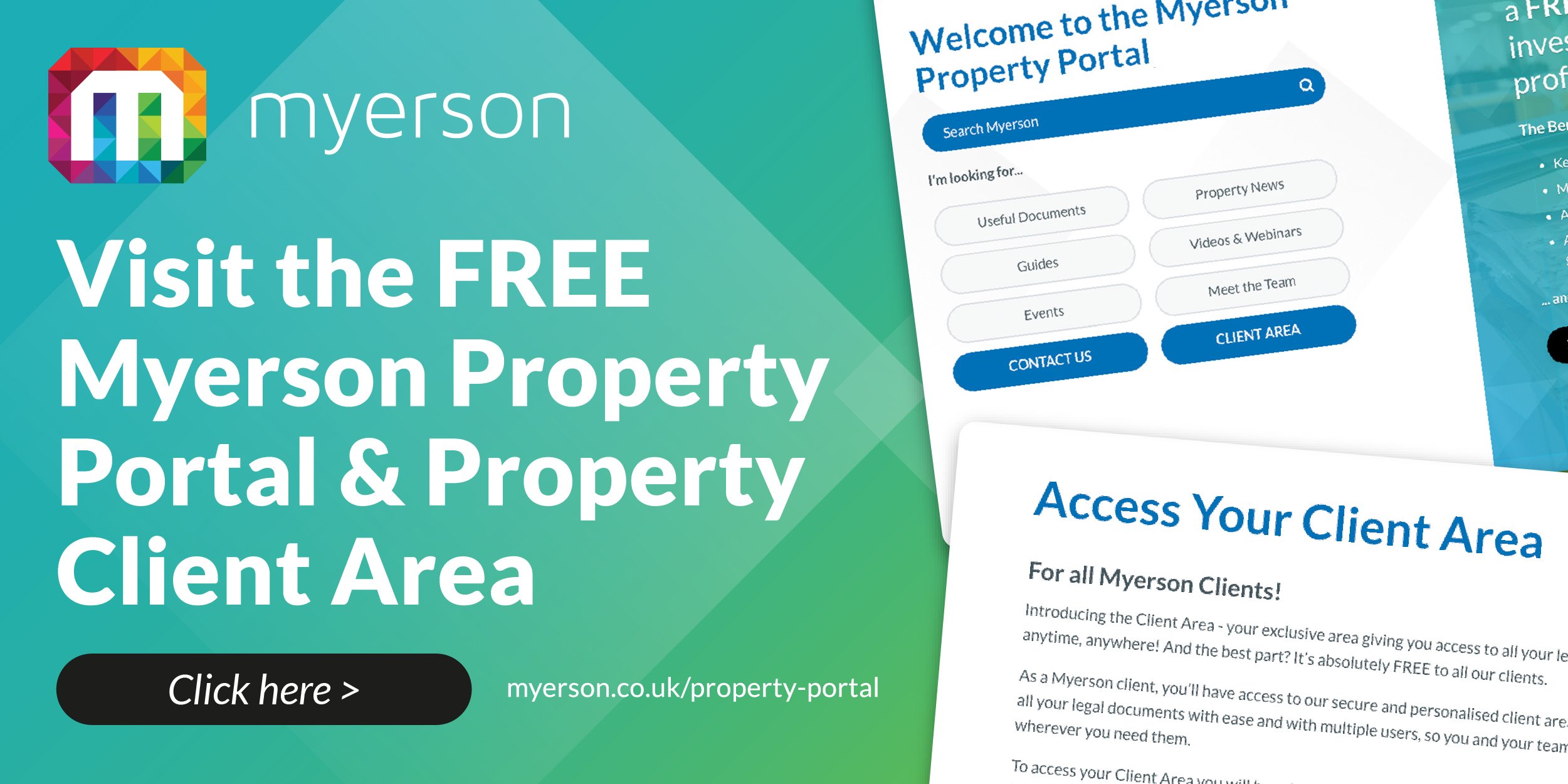 Why Work with Our Commercial Property Team?
We have been ranked as a top-tier law firm by the Legal 500 for the last seven years.
Property investors and professionals can access our free and informative Property Portal.
You will have access to more than 30 property experts across the Myerson Property Group, including commercial property, property litigation, construction, residential property conveyancing and development.
You will receive city-quality commercial property legal advice at regional prices.
We provide a partner-led service to ensure you receive the very best legal advice and commercially minded support.
Our real estate lawyers are part of a large team which is capable of meeting your deadlines.
Our commercial property lawyers understand that each transaction is bespoke to your individual circumstances and that you need support from a real estate solicitor who is experienced in dealing with a wide variety of clients and types of work.
Our full-service law firm operates from a one-site office, which means our teams communicate effectively and efficiently.
We use the latest technology to ensure that we are working as efficiently as possible, and that geographical distance is no bar to us from providing excellent client service.
We were the winners of 'Property Team of the Year 2021' at the Manchester Legal Awards.
We provide free newsletters and webinars to all our clients to keep you up-to-date with the real estate sector and changes in the law. Watch our latest property update webinar here.
Our Commercial Leasing Expertise
As experienced commercial lease solicitors, we have years of practice handling the following matters:
Negotiating and advising on heads of terms.
Drafting and negotiating new commercial leases, renewal leases, and agreements for lease.
Negotiating licences for alterations, including advice on reinstatement provisions.
Handling applications for license-to-assign, including providing guidance on the potential conditions a landlord can impose with their consent.
Advising on break clause issues.
Advising on rent reviews, service charges and security of tenure issues.
Advising on "green lease" clauses and addressing ESG concerns.
Advising on issues affecting the landlord's title, such as rights of light and covenants.
Drafting and negotiating deeds of variation and surrenders of leases.
Dealing with post-completion matters, including Stamp Duty Land Tax and Land Registry applications.
Advising on Landlord and Tenant Act 1954 lease renewals.
Dealing with tenant applications for consent, whether for alterations, assignments, or subletting.
Your dedicated commercial property lease solicitor will assist you every step of the way.
We understand that every commercial lease case is unique, so we take a proactive approach to ensure your specific needs and objectives are met.
Commercial Lease FAQs
Do I need a solicitor to draw up a commercial lease?
While it is not legally required, consulting with a commercial property lease solicitor is highly advisable when drawing up a commercial lease.
Commercial property leases are legally complex documents with significant financial and legal implications for landlords and tenants.
A commercial property solicitor can provide valuable assistance in ensuring that the lease is legally compliant, protects your interests, and addresses your specific business needs.
Commercial lease specialists can help negotiate and customise lease terms, mitigate risks, and provide a clear understanding of the legal language and implications involved, reducing the potential for future disputes.
What steps need to be taken before a commercial property lease is granted?
Before granting a commercial lease, it is advisable to engage a property agent or surveyor to negotiate the lease's commercial terms, known as "heads of terms."
The initial negotiation phase is crucial for resolving key issues, leading to a smoother commercial property lease transaction.
The Heads of Terms typically include:
Rent and Rent Review: Determine if the rent is fixed or variable or subject to reviews like RPI or open market rent. Seek expert advice from a surveyor for open market rent reviews.
Repairing Obligations: Decide if the commercial lease will be fully repairing and insuring or limited by a schedule of condition. Address any environmental or construction concerns at the commercial property.
Alienation: Define tenant flexibility to assign or sublet the premises and the conditions attached.
Break Clauses: Specify conditions for tenants to exercise break clauses and any associated rent-free periods.
Alterations: Establish tenant flexibility for property alterations, consent requirements, and reinstatement obligations.
Service Charge: Determine the tenant's share, calculation method, provided services, and the possibility of a service charge cap.
While negotiations may move quickly, it's essential to fully understand the terms and their financial implications.
Address these points early in the process and consult with our commercial lease solicitors before finalising heads of terms to ensure your specific requirements are considered, and ambiguities are avoided during drafting.
What are the risks for a tenant in taking on a commercial property lease?
Assuming the role of a commercial tenant entails various potential risks, including:
Financial commitments.
Long-term obligations.
Property maintenance responsibilities.
Possible rent hikes.
Legal liabilities.
Exposure to market fluctuations.
Restrictions on subleasing.
Dealing with landlord-related issues.
Navigating the impact of competition and location changes.
Complying with evolving regulations.
Entering commercial property leases represents a critical decision that demands thorough awareness of these risks.
If you decide to retract from a commercial property or if your business underperforms, cancelling the commercial property lease isn't straightforward. You must either secure the landlord's agreement to release you from your obligations or find an acceptable replacement tenant to transfer the lease.
Depending on the lease terms, you may also be responsible for commercial property repairs, potentially improving its condition compared to when you initially leased it.
Some individuals contemplate avoiding legal counsel to save costs before entering a lease. However, certain situations, such as Stamp Duty Land Tax liability or Land Registry registration requirements, necessitate legal involvement. Adopting a "sign and proceed" approach without professional guidance can lead to unanticipated liabilities and future complications.
I am taking on a new commercial lease of a property. What documents should the landlord be sending to me in relation to the property?
When entering into a new commercial lease agreement, we will request several essential documents from the landlord's solicitor, along with a preliminary lease draft.
Your commercial lease solicitors will subsequently provide these documents for your review.
It is imperative that you retain copies of these documents for potential future reference.
Energy Performance Certificate (EPC): The landlord must furnish an up-to-date EPC for the property, with a rating of E or higher.
Asbestos Survey: Unless the commercial property has been constructed within the last two decades, the landlord should possess an asbestos survey, which they can share with you.
Building Insurance: The landlord should have active building insurance in place. You should receive a copy that includes premium details, which may be recoverable from you, either entirely or proportionally, depending on the lease terms. This document should also specify the covered risks.
Service Charge Budget and Accounts: If you are liable for service charges during your tenancy, the landlord should provide the current year's budget (indicating your likely expenses) and the service charge accounts for the past three years.
Fire Risk Assessment: Although the commercial landlord may sometimes supply the fire risk assessment, it typically falls under the tenant's responsibility. Consequently, the landlord might not possess a copy if a prior tenant had occupied the property.
Health and Safety File: While the landlord might be able to provide this, it is also primarily the tenant's responsibility. Therefore, it may not always be available from the landlord.
Option to Tax: Unless your landlord has opted to tax the commercial property for VAT purposes by submitting a form to HM Revenue & Customs, you won't be obligated to pay VAT on rent and other lease-related payments. We will request confirmation from the landlord's solicitor regarding the existence of this option and seek a copy for verification.
What is a "green lease"?
A "green lease" is a commercial lease that incorporates provisions designed to motivate or anticipate both commercial landlords and tenants to actively take steps to reduce the property's environmental impact.
These commercial leases are a response to the growing concerns surrounding climate change, the real estate sector's contribution to carbon emissions, and the evolving regulatory landscape.
Additionally, landlords and their tenants are increasingly recognising their responsibility in addressing Environmental, Social, and Governance (ESG) issues, which are a top priority for many organisations and their investors.
Such leases may contain clauses pertaining to various aspects, including reducing carbon emissions, implementing energy-efficient measures, waste reduction and management, and promoting water efficiency.
What does "protected" lease and "contracted out" lease mean?
In the realm of business premises tenancy, we have two key categories: "protected" leases and "contracted-out" leases.
Protected Lease:A protected lease refers to a business premises tenancy where the tenant holds a statutory entitlement to secure a new lease when their current lease term concludes. The statutory entitlement is provided by the Landlord and Tenant Act 1954 (LTA 1954) and is commonly referred to as "security of tenure."
Contracted-Out Lease:In contrast, a contracted-out lease pertains to a business premises tenancy where the tenant's right to obtain a new lease is intentionally excluded. Essentially, the tenant relinquishes the statutory right to secure a new lease.
The Landlord and Tenant Act 1954 (LTA 1954) establishes the foundation for this distinction. It outlines the automatic statutory right for tenants of business premises to pursue a new lease after their current lease term concludes.
However, it also allows commercial landlords and tenants to mutually agree to exclude a lease of business premises from the "security of tenure" safeguards. This process is known as "contracting-out."
Do you pay stamp duty on a commercial lease?
As a commercial tenant, your liability for Stamp Duty Land Tax (SDLT) when acquiring a lease hinges on the lease's duration and the annual rent you're obligated to pay.
These factors are employed to determine the 'net present value' (NPV) of the lease, which, in turn, dictates the SDLT amount. Longer leases with higher rents are more likely to incur SDLT. Your commercial property solicitors will calculate and communicate the SDLT amount at the initiation of your matter.
Should the landlord apply Value Added Tax (VAT) to the rent, the SDLT calculation employs the VAT-inclusive figure.
Consider the following examples:
Lease of 5 years with an annual rent of £10,000 for the first two years and £12,000 for the remaining three years. In this case, SDLT is not applicable as the NPV falls below the threshold.
Lease of 10 years with an annual rent of £45,000 for the first five years and a rent review to the higher of the existing rent or open market value after five years, with the landlord applying VAT on the rent. The annual rent considered for SDLT is £54,000 (£45,000 plus VAT). Rent reviews occurring after the initial five years do not factor into the SDLT calculation.
As per the prevailing regulations in June 2020, the SDLT due in this scenario amounts to £2,990.
It's crucial to note that our commercial lease solicitors will manage the preparation of the SDLT return, which must be submitted to HM Revenue and Customs within 14 days of lease completion.
Failing to meet this deadline may result in HMRC imposing penalties.
What happens if a tenant wants to terminate their commercial lease agreement early – can they do this?
A commercial lease typically terminates on the specified date mentioned in the lease agreement unless a provision, known as a "break clause," is included.
If the lease incorporates a break clause, and the tenant fulfils any specified conditions within it, the tenant can opt to terminate the lease prematurely.
In cases where the lease lacks a break clause and a tenant wishes to terminate it early, the landlord may choose to agree to this request but is not obligated to do so. This process is referred to as a "surrender."
Frequently, a landlord may consent to early termination if they anticipate an easy replacement tenant or if the departing tenant offers compensation to the landlord in exchange for an early exit.
Many leases impose an obligation on the tenant to restore the property to its original state when the lease concludes. This entails removing any alterations or additions made during the tenancy.
Nevertheless, there are instances where a landlord may permit the tenant to retain these alterations if they enhance the property.
Additionally, the tenant must ensure the property meets the repair and maintenance standards outlined in the lease.
Depending on the property's value, the landlord may serve a schedule of dilapidations either before or after the lease's termination. This document details the items the landlord wishes the tenant to reinstate and any necessary repairs.
Occasionally, the landlord may request a monetary sum in lieu of performing these repairs and restorations.
When considering lease termination, the tenant must factor in these potential costs.
If a tenant wants to sell their commercial lease, does the landlord have a say in who they sell it to?
In the case of a tenant desiring to transfer their commercial lease, it's important to note that commercial lease agreements often contain provisions that restrict a tenant's ability to sell or assign the lease to another individual without first obtaining the landlord's approval.
Typically, the lease stipulates that if the tenant seeks consent, the landlord must respond promptly and reasonably to the request without undue delay.
The landlord may have the right to assess the "covenant strength" of the proposed new tenant, which essentially evaluates their ability to meet rent payments and fulfil other lease obligations.
Additionally, the landlord may have the prerogative to impose certain conditions on granting consent, such as requiring the new tenant to provide a rent deposit or a guarantor.
Formally, a landlord's consent is usually granted through a deed executed via a document termed a "licence to assign." It is strongly advisable for both parties to engage expert commercial property solicitors to draft and negotiate this licence on their behalf.
It's worth noting that the tenant typically bears the responsibility of covering the landlord's legal expenses related to these commercial lease matters.
What happens if a tenant wants to make alterations to a commercial property – can they do this?
In the context of commercial property, tenants often encounter limitations on their ability to make alterations or conduct works within the premises.
Typically, minor internal non-structural alterations are permissible, provided the tenant obtains the landlord's consent. However, structural, or external modifications are typically prohibited.
A formal process is employed to secure the necessary consent from the landlord, typically involving the execution of a deed through a document known as a "licence to alter."
For seamless handling of these licences, it is strongly advisable to engage commercial lease specialists like Myerson, who can adeptly draft and negotiate the necessary documentation on your behalf.
How to document agreed commercial lease term changes?
To formally document changes to the terms of a commercial lease, follow these steps:
Deed of Variation: After the lease has been executed, record any agreed-upon changes using a "deed of variation." This document supplements the existing lease and provides formal evidence of the agreed modifications between the parties.
Consider Additional Consents: Evaluate whether further consents are needed from parties like a superior landlord, lender, or guarantor. These consents may affect both the costs and the timeline of the lease changes.
Types of Lease Variations: Commercial lease variations can encompass various changes, including altering permitted property use, rent adjustments, removing tenant restrictions, or adding new tenant rights. The specific changes depend on the agreement between the landlord and tenant.
Avoid Informal Approaches: It is critical to avoid informal methods when altering lease terms, as informal changes lack enforceability and can lead to future disputes. Formal documentation through a deed of variation is essential.
Proper Assessment: Carefully assess the nature and impact of the proposed changes. Do not attempt to modify the lease informally by altering or crossing out terms on a copy of the existing lease. Only a formal approach guarantees legal validity.
In summary, to document agreed commercial lease term changes, employ a formal deed of variation.
Additionally, consider the need for consent from relevant parties, steer clear of informal alterations, and assess the impact of the changes thoroughly.
Our Commercial Property Team
Home-grown or recruited from national, regional or City firms. Our commercial property solicitors are experts in their fields and respected by their peers.
Contact Myerson Solicitors
Complete the form below, or alternatively, you can call Myerson Solicitors on: