Biography
Laura is regularly instructed by household names and owner managed businesses to resolve legal disputes relating to commercial tenancies and ownership of land.
Laura regularly advises in connection with commercial and residential landlord and tenant disputes, forfeiture, dilapidations, rent arrears and possession, neighbour disputes and insolvency property issues.
Laura also has a great deal of experience in advising on commercial agency disputes and has advised on a number of high value disputes which have been resolved at mediation.
Laura undertook her training at Myerson and now has over has over 8 years' experience. Laura is a member of the Property Litigation Association.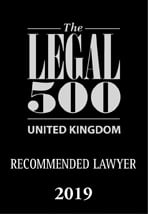 Expertise and Past Cases
Laura specialises in advising on property litigation, landlord and tenant disputes including forfeiture, dilapidations, rent arrears and possession, insolvency property issues and professional negligence claims arising out of property disputes.
Highlights of Laura's work include:
Advising clients on business lease renewals which includes serving notices pursuant to section 25, 26 or 27 of the Landlord and Tenant Act 1954, advising on the validity of notices served and commencing any necessary proceedings.
Advising on the validity of and/or serving break notices on commercial premises with substantial rental incomes.
Acting on behalf of an individual to obtain possession of a residential property that he had purchased and allowed a family to reside in by way of a licence following completion. The family sought to argue that they had an option to buy back the property and were not required to vacate it. The matter went to Trial and our client was successful.
Successfully forfeiting a commercial lease for the tenant's non-payment of rent.
Acting for Trustees who owned substantial areas of open land in Lancashire. An application was made to register the land as "common land". The application was successfully opposed and the Applicants were forced to withdraw the application.
Assisting on a file to obtain a court-sanctioned search order and arranging for the simultaneous searches of a laboratory, office and residential property. This was a complex matter and involved allegations of breaches of restrictive covenants, misuse of confidential information, intellectual property infringement, theft and conspiracy. The searches were successful and the dispute was resolved favourably for our client.
Specialist Areas
Our legal services are underpinned by our knowledge and expertise in the following areas.