Commercial Rent Review Solicitors
Commercial leases often include a provision for rent review, typically occurring every five years. The lease will outline the process for initiating the rent review, usually involving the landlord serving a notice to the tenant.
Upon receiving a rent review notice, the tenant may be required, depending on the lease terms, to serve a counter-notice on the landlord within a specified timeframe.
In cases where an agreement cannot be reached between the parties, commercial property leases typically stipulate that an independent third party, acting as an expert or arbitrator, will determine the revised rent.
Myerson's Property Litigation team can provide valuable assistance in the commercial rent review process:
Contractual Guidance: We can advise you on your contractual position and rights.
Notice Services: If necessary, we can serve a notice to trigger the rent review or assess the validity of any notice served to you.
Dispute Resolution: We offer guidance and support in addressing disputes arising from the rent review clause, including appointing an independent expert or pursuing arbitration.
Our expert property litigation lawyers aim to ensure clear and professional handling of the rent review process while protecting your interests and rights as a commercial tenant or landlord.
Myerson's property team, including our award-winning commercial property solicitors, will liaise to ensure you are only receiving the best professional advice regarding your unique rent review case.
Why Work With Our Property Litigation Team
We have been ranked as a top-tier law firm by the Legal 500 for the last seven years.
You will have access to more than 30 property experts across the Myerson Property Group, including commercial property, construction, residential property conveyancing and development.
You will receive city-quality commercial property legal advice at regional prices.
We provide a partner-led service to ensure you receive the best legal advice and commercially-minded support.
We have a large team which is capable of meeting your deadlines.
We understand that each transaction is bespoke to your individual circumstances and that you need support from a property lawyer who is experienced in dealing with a wide variety of clients and types of work.
We are a full-service law firm operating from a one-site office, which means our teams communicate effectively and efficiently.
We use the latest technology to ensure that we are working as efficiently as possible and that geographical distance is no bar to us from providing excellent client service.
We were the winners of 'Property Team of the Year 2021' at the Manchester Legal Awards.
We provide free newsletters and webinars to all our clients to keep you up to date with the real estate sector and changes in the law. Watch our latest property update webinar here.
Myerson Property Portal
The Myerson Property Portal is a free tool for property investors and professionals.
With the Myerson Property Portal, you gain a competitive edge in the rapidly evolving property landscape.
Our free portal will help you manage your properties with ease and efficiency by providing a seamless service wherever you are.
Not just a management tool, it's an essential companion for the modern investor seeking to optimise their portfolio while staying updated on the latest in the property world.
So, what are the benefits?
Your own client area,

giving you access to all your legal documents, conveniently accessible anytime, anywhere!

Key legal information at your fingertips.
Must read property news, blogs and videos.
Access to free property events and training workshops.
A comprehensive collection of helpful property documents and guides.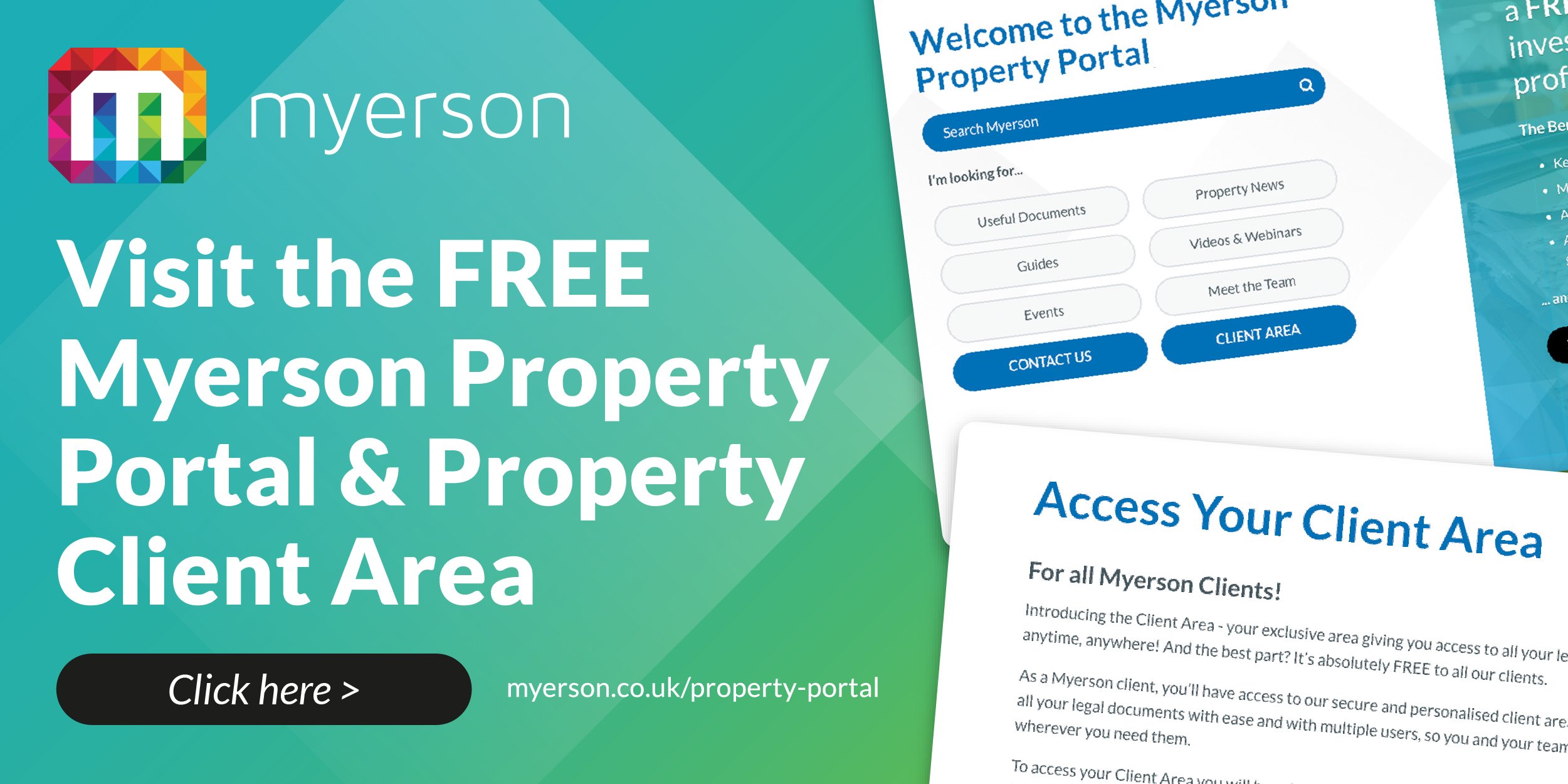 Commercial Rent Review FAQs
Why include a rent review provision in a commercial lease?
Rent reviews in leases allow for adjustments to the rent amount, either based on market value increases or predetermined increments.
Landlords often include a rent review clause in a commercial lease agreement to maximise their rental income. Tenants should pay close attention to rent review clauses.
The Code for Leasing Business Premises promotes flexible, shorter leases and encourages both landlords and tenants to initiate rent reviews. This shift may empower tenants to negotiate better terms.
However, since the Code is voluntary, tenants who neglect this aspect may face unexpectedly high and unfair rents.
What is the commercial rent review process, and how often does it occur?
Rent reviews can be conducted in various ways, determined by each lease's terms.
Common methods include stepped increases, turnover-based adjustments, or rent tied to a price index.
The most prevalent approach remains the open market rent review despite its complexity. During the review, the open market method aligns the rent with current market conditions.
However, even with The Code's influence, open market rent review clauses often favour upward-only adjustments, allowing landlords to maintain or increase rents upon commercial rent reviews.
Negotiations between parties may affect the terms, and in the current economic climate, tenants may have stronger leverage to secure provisions that allow rent adjustments in both directions.
Rent reviews can be initiated through notice or negotiation when the time comes.
While leases typically specify five-year intervals for rent reviews, a trend towards shorter, more flexible leases have made three-year rent reviews more common.
Parties should consider the costs associated with more frequent rent reviews when deciding on their frequency.
What happens if the commercial rent review has not been agreed by the review date?
If the rental price is not agreed upon by the rent review date, the tenant will continue to pay the existing rent until the new rent is determined.
Once the new rent is established, the tenant is obligated to pay the commercial landlord the new rent from the review date, adjusting for any sums the tenant has already paid.
The specific resolution process may vary based on the lease terms, which can include:
Continuation of Existing Rent: The current rent remains in effect until both parties reach an agreement.
Arbitration or Mediation: Some leases mandate arbitration or mediation to settle disputes.
Market Rent Determination: Independent experts or valuers may assess and set the new rent based on prevailing market conditions.
Legal Action: As a last resort, legal action may be pursued to enforce commercial lease terms or seek a court's decision.
It is advisable for landlords and tenants to thoroughly review their lease agreements and seek legal counsel if disagreements or rent arrears arise during the rent review process.
How should the rent review notice be served?
The manner in which a rent review notice should be served depends on the terms stipulated in the lease agreement and relevant legal regulations.
Typically, lease agreements specify that rent review notices must be conveyed in writing. This can take the form of an official letter or a designated notice document to ensure clarity and maintain a written record.
The common methods for serving rent review notices include certified mail or recorded delivery, which provides proof of delivery and a documented date of sending. In some cases, commercial leases may allow for email delivery if both parties consent to this method, but it must be explicitly stated in the lease.
Additionally, personal delivery may be permitted in certain instances, contingent on obtaining a signed acknowledgement of receipt. If the lease designates a registered agent for either the landlord or tenant, the notice may need to be directed to the agent's address.
It is crucial to thoroughly review the lease agreement to ascertain the precise requirements for serving a rent review notice.
Failure to comply with the prescribed method of service can potentially lead to disputes or legal complications. Furthermore, maintaining copies of all rent review-related correspondence is advisable for documentation purposes.
What if the parties cannot agree to the rent?
If the parties involved in a rent review cannot come to an agreement on the new rent amount, the resolution process typically depends on the terms specified in the lease agreement.
In such cases, the lease may outline alternative mechanisms for determining the new rent. Mechanisms could include options like arbitration, mediation, or the involvement of independent experts or valuers to assess and set the new level of rent based on prevailing market conditions.
If the lease does not specify a particular resolution process, it may be necessary to seek legal advice or engage in negotiations to find a mutually acceptable solution.
Ultimately, the specific course of action will depend on the lease terms and the willingness of the parties to work towards a resolution.
Will rent review provisions be the same in all leases?
Rent review provisions in leases are not standardised and can vary significantly from one lease to another.
The terms and conditions related to rent reviews are typically negotiated between the landlord and tenant and can be customised to suit their specific needs and preferences.
As a result, rent review provisions will differ in each lease agreement based on the agreements reached between the parties, the property type, and other relevant factors.
It's essential for both parties to carefully review and understand the rent review provisions outlined in their specific lease agreement to ensure compliance and clarity.
What if amendments to a commercial lease are needed?
To address the need for amendments to a lease, a structured process should be followed, emphasising clear communication, legal compliance, and mutual agreement.
First, the parties involved, namely the landlord and tenant, should engage in discussions to identify the necessary amendments. Open and honest communication is vital to reaching an agreement.
Once both parties agree on the required changes, the next step is to draft these amendments in writing.
Legal counsel may be involved to ensure that the proposed changes align with relevant laws and regulations.
After drafting, both parties should carefully review the proposed amendments and, if necessary, seek legal advice to ensure a comprehensive understanding of the modifications. Once both parties are satisfied with the amendments, they should sign the amended lease document.
The signed amendments should then be appended to the original lease, creating a complete record of the modified terms. Additionally, if any third parties, such as lenders or guarantors, need to be informed of the amendments, they should be promptly notified.
Lastly, compliance with the updated terms and conditions outlined in the amended lease is crucial. Parties should ensure that they adhere to these terms as agreed upon.
It is essential to note that all lease amendments should adhere to the lease agreement and comply with local legal requirements.
Seeking guidance from legal professionals experienced in real estate law is advisable to guarantee the validity and enforceability of the amendments.
Our Property Litigation Team
Home-grown or recruited from national, regional or City firms. Our specialists are experts in their fields and respected by their peers.
Contact Myerson Solicitors
Complete the form below, or alternatively, you can call Myerson Solicitors on: