Developer Disputes Expertise
Disputes that relate to a development can be dealt with in a variety of ways depending upon the dispute that has arisen and the relationship between the parties.
Some disputes will involve Court proceedings being issued or arbitration being commenced whereas other disputes may be better dealt with through a negotiated settlement.
We assess each matter on its own facts and will outline all of your options and advise you on the best course of action depending upon the objective you want to achieve.
Clearing a Site of Existing Tenants/Licensees
One of the first stages of any development will be to clear the site from existing occupiers. We can review the basis upon which they are occupying the site and prepare a strategy with you to obtain vacant possession of the site as and when you need it.
Service Charge Disputes
If proceedings are issued against you because, for example, the service charges are unreasonable or have not been demanded correctly then we can take away the stress of dealing with this from you, advise you on your options, defend the proceedings and bring them to a swift resolution.
Rent, Ground Rent and Service Charge Arrears
As a developer you may have retained the management of the site and the ability to recover rents or ground rents. Should you have any issues in demanding or recovering these from the tenants then we can assist you with this so that the arrears do not build up.
Rights to Light
When developing a site, you always have to give thought to whether you will be faced with any rights to light claims. We have experience of dealing with claims of this nature and can assist you in resolving any issues you encounter.
Oversailing
Oversailing can be a big problem for developers. We can act on your behalf should you be faced with a claim and fight your corner. We can also advise you of your risks at the outset and assist our Real Estate Team in negotiating and preparing the terms of an Oversailing Licence.
Trespassers
Trespassers can be a common problem for developers. We have a wealth of experience of obtaining possession from trespassers and aim to resolve the matter promptly to minimize any delays to the development of the site.
Development Constraints
We work alongside our Real Estate Team to resolve any development constraints at the development site. For example, there may be access issues or issues concerning rights of way. We can advise you on your legal position and commercial and legal options to resolve any concerns you have about the site.
Right of First Refusal
If you are considering making a disposal of your interest in a building that contains flats then by law you must offer it to the tenants before offering it on the open market. Failure to do so is criminal offence.
We regularly advise landlords in relation to their obligations and can guide you through the process which will initially involve serving notices on the tenants.
Our Approach to Developer Disputes
At Myerson we understand that you do not want to be embroiled in costly and lengthy litigation because this will ultimately affect the profitability of the project.
Therefore, we aim to resolve disputes as quickly as possible.
There are instances where you have no option other than to proceed through the Court process particularly, if you are a defendant in the proceedings.
If you find yourself in this situation then our experts have a wealth of experience and will be able to guide you through the process and fight your corner for you.
We recognise that the legal answer does not always provide the best outcome to the dispute so we always consider whether there is a more innovative and creative approach to achieve the best outcome for you.
Myerson has a team of experts from across our contentious and non-contentious departments who work together to ensure that the approach to the dispute is the best for each client.
Why Work With Our Property Litigation Team
We have been ranked as a top-tier law firm by the Legal 500 for the last seven years.
You will have access to more than 30 property experts across the Myerson Property Group, including commercial property, construction, residential property conveyancing and development.
You will receive city-quality commercial property legal advice at regional prices.
We provide a partner-led service to ensure you receive the best legal advice and commercially-minded support.
We have a large team which is capable of meeting your deadlines.
We understand that each transaction is bespoke to your individual circumstances and that you need support from a property lawyer who is experienced in dealing with a wide variety of clients and types of work.
We are a full-service law firm operating from a one-site office, which means our teams communicate effectively and efficiently.
We use the latest technology to ensure that we are working as efficiently as possible and that geographical distance is no bar to us from providing excellent client service.
We were the winners of 'Property Team of the Year 2021' at the Manchester Legal Awards.
We provide free newsletters and webinars to all our clients to keep you up to date with the real estate sector and changes in the law. Watch our latest property update webinar here.
Developer Case Studies
Case Study 1
Client Intro: Abbasi & Salek Partnership
Our clients are property developers and portfolio owners.
Case Overview:
Our clients are the owner of a long lease of parts of the basement, ground floor and upper floor of a building known as Asia House, formerly a commercial building. Our clients converted its premises into residential units worth £1.3m and rented them out.
The rest of the building is owned by our clients' landlord which is a Jersey based subsidiary of an international pension fund. It had also been converted into residential units which are rented to apartment owners under long leases.
The landlord forfeited our clients' lease by issuing possession proceedings following the service of a section 146 notice, alleging breach of covenants during the conversion works. Our clients sought relief from forfeiture.
The landlord excluded our clients' and their tenants from the common parts of the building on the basis they had forfeited the lease. Our clients secured injunctive relief prohibiting the landlord from interfering with our clients' and their tenants' rights under the lease.
The landlord refused to give effect to the injunction obtained with the result that our clients applied for the landlord's assets to be sequestered and the directors of the landlord be committed to prison. The landlord capitulated at the committal hearing and were ordered to pay our clients' costs of the injunction and committal proceedings.
The landlord discontinued its possession claim and consented to our clients' application for relief from forfeiture and agreed to pay our clients' costs.
Sean Hackett, a Partner in the Property Litigation team says "This matter demonstrates the depth of our technical and legal abilities in high value complex matters."
Case Study 2
Client Intro: GW Fox Limited
Our client is a developer.
Case Overview:
Our client entered into an Option Agreement with the owner of a piece of land in Buckinghamshire. An application for planning permission was submitted shortly before the second option period was set to expire. The owner of the land wanted to renegotiate the terms of the Option Agreement so that they were more favourable to her. We were instructed to advise our client on the strength of their position under the Option Agreement so that they could make an informed decision regarding any negotiations.
Case Study 3
Client Intro: Brunswick Investor Company Limited
Our client is a company formed by investors in respect of a new build development in Manchester.
Case Overview:
The shareholders of the client were the investors who purchased apartments off plan from the developer who then ran into financial difficulties. The company secured a purchase of the share in the developer and is presently in negotiations with another developer to acquire the site to complete the build out. We have had to ensure that the investors whose long stop dates had passed, did not seek to terminate their agreements for leases and seek to bring down the developer company whilst negotiations have been ongoing.
Myerson Property Portal
The Myerson Property Portal is a free tool for property investors and professionals.
With the Myerson Property Portal, you gain a competitive edge in the rapidly evolving property landscape.
Our free portal will help you manage your properties with ease and efficiency by providing a seamless service wherever you are.
Not just a management tool, it's an essential companion for the modern investor seeking to optimise their portfolio while staying updated on the latest in the property world.
So, what are the benefits?
Your own client area,

giving you access to all your legal documents, conveniently accessible anytime, anywhere!

Key legal information at your fingertips.
Must read property news, blogs and videos.
Access to free property events and training workshops.
A comprehensive collection of helpful property documents and guides.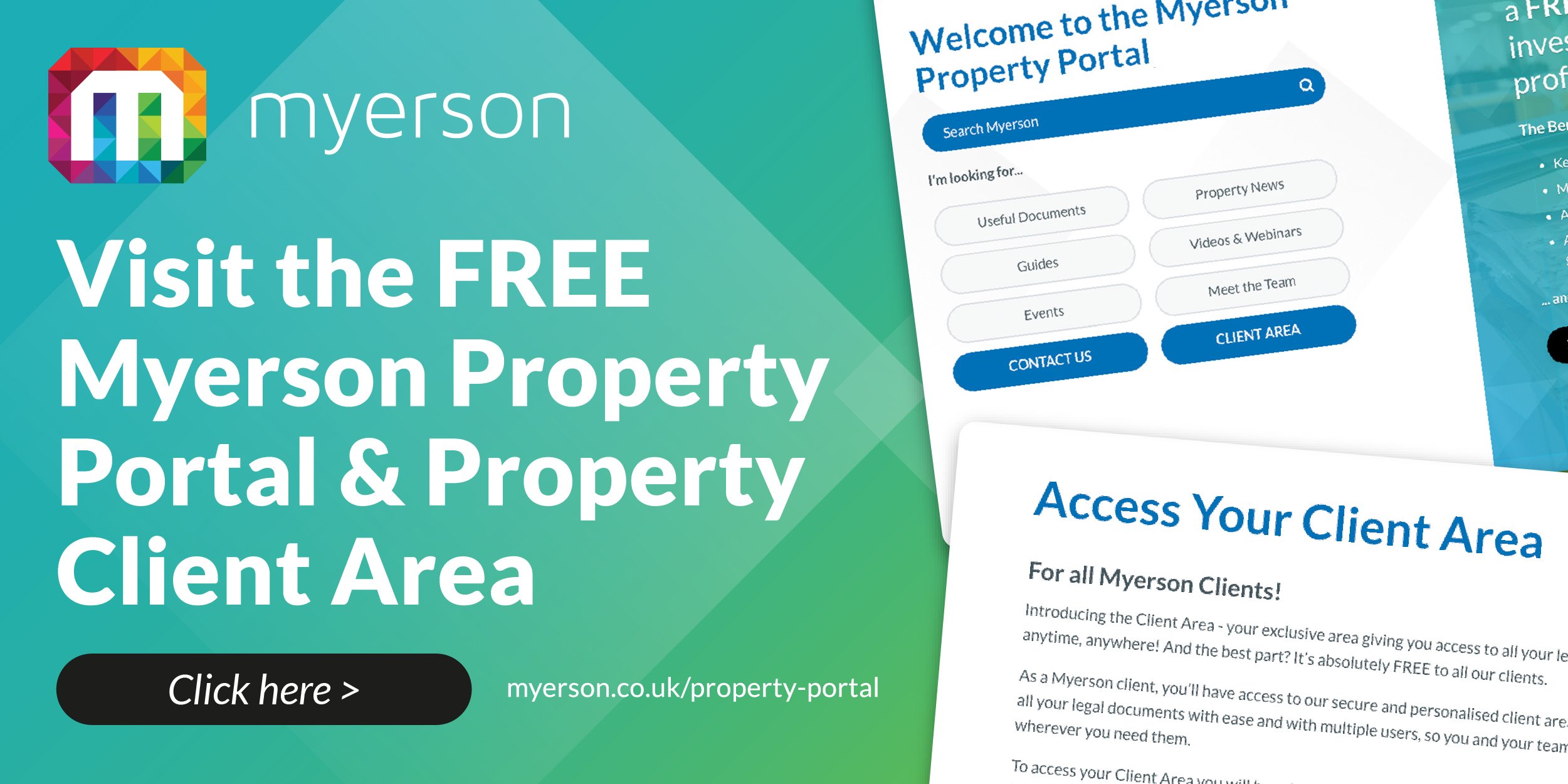 Our Property Litigation Team
Home-grown or recruited from national, regional or City firms. Our specialists are experts in their fields and respected by their peers.
Contact Myerson Solicitors
Complete the form below, or alternatively, you can call Myerson Solicitors on: