Our Residential Development Service
At Myerson, our award-winning team will assist you with all aspects of your residential development. We believe that development projects are team efforts, both internally within our real estate team and, more importantly, with our clients, their contractors and their professional teams.
We know that one of your prime concerns is likely to be timescales and managing cash flow. Our residential property development team is responsive and proactive and will work to solve any problems quickly to avoid funding gaps and keep your project on track.
Our clients include housebuilders of all sizes, student accommodation specialists, regeneration specialists and first-time developers.
Our residential property development solicitors are experts in all aspects of residential development and will work with you to achieve your objectives, whatever the size of your project and your level of experience.
We provide a truly start to finish service and can advise you on projects from the strategic site assembly stage, through to the construction, delivery and plot sales of completed units and the ultimate sale of the freehold interest in the building to an investor.
Myerson Property Portal
The Myerson Property Portal is a free tool for property investors and professionals.
With the Myerson Property Portal, you gain a competitive edge in the rapidly evolving property landscape.
Our free portal will help you manage your properties with ease and efficiency by providing a seamless service wherever you are.
Not just a management tool, it's an essential companion for the modern investor seeking to optimise their portfolio while staying updated on the latest in the property world.
So, what are the benefits?
Your own client area,

giving you access to all your legal documents, conveniently accessible anytime, anywhere!

Key legal information at your fingertips.
Must read property news, blogs and videos.
Access to free property events and training workshops.
A comprehensive collection of helpful property documents and guides.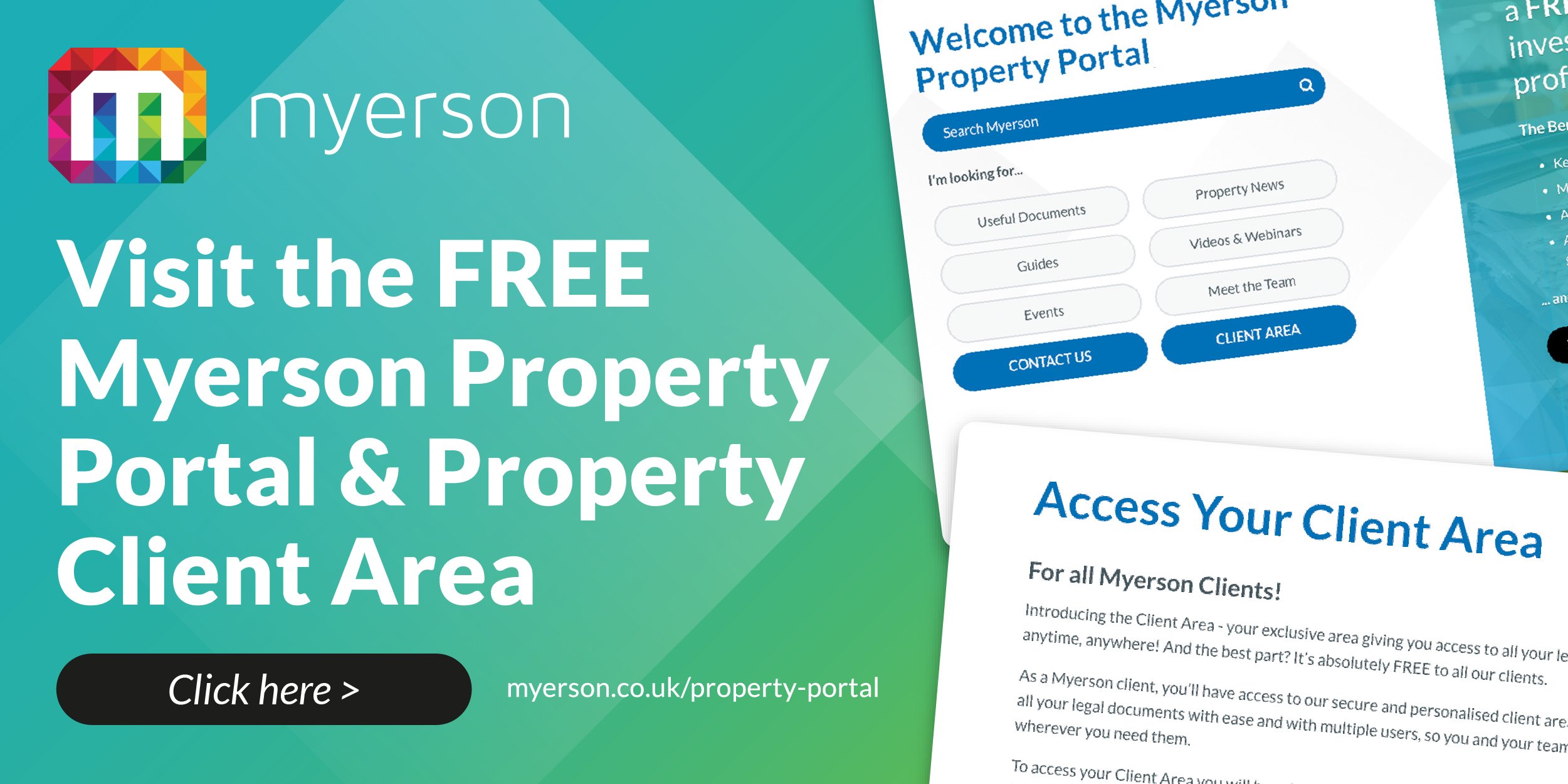 Why Work With Us?
We have been ranked as a Top Tier law firm by the Legal 500 for the last seven years.
Property investors and professionals can access our free and informative

Property Portal.
You will have access to more than 30 property experts across the Myerson Property Group, including commercial property, property litigation, construction, residential property conveyancing and development.
You will receive city-quality commercial property legal advice at regional prices.
We provide a partner-led service to ensure you receive the very best legal advice and commercially-minded support.
We have a large team which is capable of meeting your deadlines.
We understand that each transaction is bespoke to your individual circumstances and that you need support from a property lawyer who is experienced in dealing with a wide variety of clients and types of work.
We are a full-service law firm operating from a one-site office, which means our teams communicate effectively and efficiently.
We use the latest technology to ensure that we are working as efficiently as possible and that geographical distance is no bar to us from providing excellent client service.
We were the winners of 'Property Team of the Year 2021' at the Manchester Legal Awards.
We provide free newsletters and webinars to all our clients to keep you up to date with the real estate sector and changes in the law. Watch our latest property update webinar here.
Examples of Recent Transactions
Acting for a developer client in connection with a substantial development funding facility for the construction of a 270-unit residential scheme in Salford, Greater Manchester
Acting for developers in relation to the purchase of an industrial site in Salford. This also included the development and sale of 400 apartments.
Acting on the purchase and development of a Manchester city centre residential development site on behalf of developers and the forward funding arrangements for the whole block with a PRS fund.
Acting on behalf of a developer client in connection with a scheme to build more than 1,000 houses. This included dealing with adjoining landowners to facilitate the access to and servicing of the wider development area.
Acting in relation to the purchase, funding, site set up and ultimate plot sales of a number of residential development sites in the Home Counties ranging from 3 units to 26 units.
Acting in relation to the purchase and conversion of an old mill, site set up and plot sales of 14 apartments.
Acting on behalf of the land promoter on the promotion of a substantial parcel of greenfield land for residential development, then subsequently acting for the promoter and landowner in connection with the sale to a national housebuilder for an eight figure sum.
The sale of a substantial freehold reversion portfolio to a specialist ground rent fund.
The acquisition of a site in Salford for a development of over 600 residential properties including site assembly from several different landowners, dealing with development funding and then managing the sale process to end purchasers.
Acting for a developer in relation to the development of high-value apartments in a prestigious Cheshire location. This included securing the site by way of a contract conditional upon planning. Our specialist plot sales team also advised throughout the sale of the completed apartments to individual owner-occupiers.
Residential Development FAQs
If I am approached by a developer who is applying pressure on me to sign an agreement now, should I sign?
Even if a developer is applying pressure on your to sign an agreement, you should never sign before seeking professional advice.
Your land is a valuable asset and you should always consult a professional before signing any agreement.
If you are being pressurised to sign something, please feel free to telephone us and we can provide immediate initial advice to you.
What are heads of terms?
In relation to property, Heads of Terms (HoTs) outline the main points and intentions for a lease or purchase agreement before a formal contract is drawn up.
They can specify terms like rent, duration, responsibilities for repairs and maintenance, break clauses, and other key lease or sale conditions.
They should set out all the key details relating to the amount of land being sold, the valuation method for that land, and the timings for the transaction.
They would normally be prepared by a land agent or surveyor.
What is the difference between an option agreement and a conditional contract?
An option agreement is a contract between you and a developer that allows the developer to buy the property under set terms within a defined time frame.
Sometimes the developer will pay a fixed fee to you for entering into the option agreement.
Under an option agreement, you have no guarantee that the land will be sold to the developer during the option period.
A conditional contract obligates both parties to the sale and purchase of the property, contingent upon specific conditions being met.
In residential property development, the primary condition typically pertains to obtaining planning permission for the intended residential project.
If these conditions are met under a conditional contract, both parties are committed to finalising the sale and purchase of the property.
If I enter into an option agreement or conditional contract, can I expect the developer to pay an option fee and all my professional costs?
Whether you enter into an option agreement or a conditional contract, the payment of an option fee and coverage of your professional costs depends on the terms negotiated between you and the developer. However, many landowners are able to agree option fees.
These fees may serve as compensation for limiting your ability to sell your property to others during the duration of the option agreement and for any other constraints the developer places on your property use.
Frequently, landowners successfully negotiate for the developer to cover all or a portion of their professional expenses related to the option agreement or conditional contract. Such negotiations are typically handled by their land agent or surveyor on their behalf.
Can you recommend a surveyor or land agent to act on our behalf?
Myerson Solicitors have experience working with many property professionals including specialists in the sale of land which has potential for residential development.
We can make recommendations to you of professionals who might be suitable so that you can speak to them and decide whether or not you would like to ask them to act on your behalf.
The decision as to who you wish to act on your behalf is entirely yours.
Will the developer want access to my land before a contract is exchanged and what would they want to do to it?
Developers often seek access to land before a contract is formally exchanged.
This preliminary access allows them to undertake various investigations and assessments to ensure the land is suitable for their intended development.
Access would normally be granted to the developer in a licence document, which would include restrictions on when the land can be accessed.
It would also include obligations on the developer to make good any damage caused during the investigations.
What is overage or clawback?
Overage, often referred to as "clawback", is a provision in a land sale agreement. It entitles the seller to receive additional payment from the buyer if certain specified future events occur that increase the value of the land.
The intent is to allow the original seller to share in the enhanced value of the land, especially if it becomes more valuable due to events like obtaining planning permission.
The most common condition for the trigger of an overage payment is often the approval of planning permission for property development.
What are restrictive covenants and how might they affect my land?
Restrictive covenants are legally binding conditions or restrictions written into the deeds or title of a property, which limit how the land or property can be used or what can be built upon it. They are typically intended to protect the value and enjoyment of adjoining properties.
Common restrictive covenants might require that the land is not used other than, for example, agricultural use.
Myerson's property solicitors can examine and advise on the title to the property and discuss with you the best approach to take to deal with such covenants.
Other title issues that might be of relevance would include access to the property, and the effect of an increase in use of an existing right of way or right to use service media which run through the land.
Do you just deal with property in the Altrincham area?
Myerson Solicitors acts for landowners all over England and Wales and will be able to assist you no matter where you are within those countries.
What are the advantages of housing development?
Housing development offers several advantages, both for communities and economies.
Here are some of the primary benefits:
1. Meeting Housing Demand: One of the most direct advantages is that it addresses housing shortages, ensuring that growing populations have places to live.
2. Economic Growth: Housing developments often lead to job creation, both directly within the construction industry and indirectly in related sectors such as real estate, finance, and retail.
3.Infrastructure Development: With new housing projects, there often comes improved infrastructure, such as roads, water, sewage, and utilities, which can benefit the broader community.
4. Increased Property Values: Properly planned and executed developments can increase the value of surrounding properties by enhancing the appeal of the area.
5. Community Amenities: New housing developments often incorporate parks, schools, and shopping centres, which can add value to the lives of the residents and surrounding community.
6. Urban Regeneration: Housing developments can breathe new life into decaying urban areas, turning neglected zones into vibrant communities.
7. Diverse Housing Options: Developments can provide a range of housing options catering to various socio-economic groups, allowing for mixed communities that cater to both renters and homeowners.
8. Increased Local Revenue: New developments can lead to increased tax revenues for local governments, which can then be reinvested in public services.
9. Sustainable Development: Modern housing projects often emphasise sustainability, incorporating energy-efficient designs, green spaces, and sustainable materials, which can lead to long-term environmental benefits.
10. Land Utilisation: Proper housing development can make efficient use of land, especially in areas where land is scarce.
It's important to note that while there are many advantages, housing development also poses challenges and potential downsides, especially if not managed and planned carefully.
Our Commercial Property Team
Home-grown or recruited from national, regional or City firms. Our commercial property solicitors are experts in their fields and respected by their peers.
Contact Myerson Solicitors
Complete the form below, or alternatively, you can call Myerson Solicitors on: