Our Commercial Conveyancing Service
Our property solicitors are part of one of the largest real estate teams in the North West, and we operate throughout England and Wales. The commercial property team is led by four partners and offers a wealth of property expertise, as demonstrated by our Top Tier ranking in the Legal 500 for the last seven years running.
We would be delighted to help you through the process of your commercial conveyancing. We deal with the full range of legal issues, including:
Buying, selling or re-mortgaging business premises
Heads of terms
Transactional advice
Property searches
Title investigation
Contractual issues
Sales pack and legal documents
Contractual protection
Third-party consents
Post-completion
Myerson Property Portal
The Myerson Property Portal is a free tool for property investors and professionals.
With the Myerson Property Portal, you gain a competitive edge in the rapidly evolving property landscape.
Our free portal will help you manage your properties with ease and efficiency by providing a seamless service wherever you are.
Not just a management tool, it's an essential companion for the modern investor seeking to optimise their portfolio while staying updated on the latest in the property world.
So, what are the benefits?
Your own client area,

giving you access to all your legal documents, conveniently accessible anytime, anywhere!

Key legal information at your fingertips.
Must read property news, blogs and videos.
Access to free property events and training workshops.
A comprehensive collection of helpful property documents and guides.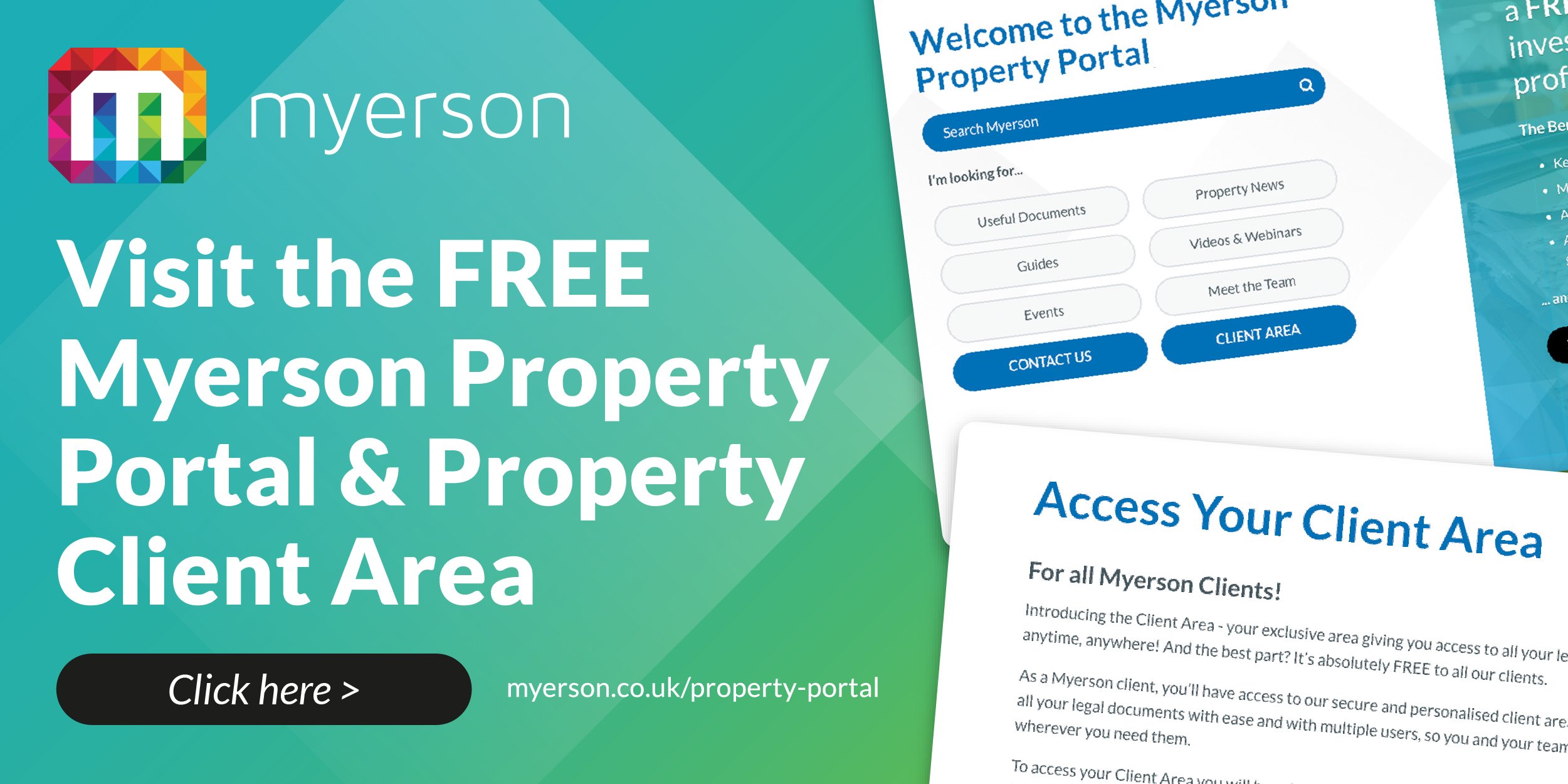 Why Work With Us?
We have been ranked as a Top Tier law firm by the Legal 500 for the last seven years.
Property investors and professionals can access our free and informative

Property Portal.
You will have access to more than 30 property experts across the Myerson Property Group, including commercial property, property litigation, construction, residential property conveyancing and development.
You will receive city-quality commercial property legal advice at regional prices.
We provide a partner-led service to ensure you receive the very best legal advice and commercially-minded support.
We have a large team which can meet your deadlines.
We understand that each transaction is bespoke to your individual circumstances and that you need support from a property lawyer who is experienced in dealing with a wide variety of clients and types of work.
We are a full-service law firm operating from a one-site office, which means our teams communicate effectively and efficiently.
We use the latest technology to ensure that we are working as efficiently as possible, and that geographical distance is no bar to us from providing excellent client service.
We were the winners of 'Property Team of the Year 2021' at the Manchester Legal Awards.
We provide free newsletters and webinars to all our clients to keep you up to date with the real estate sector and changes in the law. Watch our latest property update webinar here.
Look at the Myerson Promise for further benefits of working with us here.
Our Commercial Conveyancing Clients
We specialise in handling commercial conveyancing transactions of all types and sizes locally and throughout England and Wales, including:
office buildings for owner's use
multi-let office buildings for investors
redevelopment projects, large and small
Owner-occupied shops, offices and industrial units
Sales of properties in the course of construction or conversion
Sales of new-build industrial units or offices
Sales which are conditional on planning consent being obtained by the buyer or other conditions being fulfilled
Sales by auction
high street shops
option agreements
conditional contracts
industrial and manufacturing plants
purchase of property into a SIPP or SSAS
purchase of property at auction
We advise many different types of clients, from individual investors, sole traders and pension schemes to international corporations and PLCs.
FAQs
What are heads of terms
Heads of terms are the terms of sale agreed between the seller and the buyer at the outset, including details such as the identity of the parties, the agreed price, any conditions to the sale and required time frames.
Commercial property agents and solicitors can assist with negotiating the heads of terms.
I have agreed terms to buy or sell a commercial property; what happens next?
Once terms have been agreed upon:
the buyer should ensure that it has sufficient cash funds or an offer of finance
the buyer may want to have a survey of the property carried out and may be required to do this if it is obtaining bank funding for the purchase
the parties will each instruct their own solicitor to act for them
the seller should collate as much information as they can about the property, including copies of any planning permissions and paperwork such as fire risk assessments and electrical and gas safety reports. The seller will also need to report things like any disputes which have occurred in relation to the property and any insurance claims they may have made to assist their solicitor in compiling the sales pack (see below)
the seller's solicitor will prepare a sales pack typically comprising:

title information proving the seller's ownership of the property
industry-standard replies to enquiries about the property covering everything from disputes to asbestos, known as CPSEs
sale contract

the seller's solicitor will also do the following:

apply for any third-party consent that may be required to allow the sale to proceed
liaise with the buyer's solicitor and respond to any enquiries raised by them
negotiate the sale contract
deal with any additional, specific enquiries resulting from the buyer's solicitor's due diligence
negotiate the transfer deed
report to the seller throughout the matter

the buyer's solicitor will do the following:-

order searches and review results
review the sales pack referred to above
negotiate the sale contract
raise additional, specific enquiries resulting from their due diligence
draft and negotiate the transfer deed
report to the buyer
deal with the requirements of the buyer's lender or its solicitors (if applicable)

once the buyer has carried out all of its conveyancing searches and is satisfied with the due diligence it and its lawyers have carried out on the property, the contract will be signed and exchanged. At this point, the parties will be legally bound to the transaction
the transfer deed will be completed (and the property formally transferred to the buyer) on the completion date agreed in the contract or when any conditions to the contract have been satisfied. On the date of completion, the seller will need to vacate the property and hand it over to the buyer
the buyer's solicitor will deal with post-completion formalities, including the filing of any required Stamp Duty Land Tax return with HMRC, registration of any legal charge at Companies House and registration of any legal charge and the transfer deed at the Land Registry
the seller's solicitor will deal with the repayment of any existing charges secured on the property from the proceeds of the sale and account to you for the balance
Timings and transaction documents will vary depending on the circumstances of the transaction, for example:
auction sales are often quicker than private sales;
sales, where the buyer is using cash, are more straightforward than those requiring funding;
completion may depend on contractual conditions being satisfied, such as obtaining planning permission for the redevelopment.
In every case, we will clearly explain anticipated timeframes and potential delays throughout.
Some property sales are less straightforward, and one of the parties may need to obtain planning permission or carry out works to the premises. There may be some other irregularity with the property or unusual circumstances relating to the sale. We do not just deal with standard contracts and documentation. All of our documents are drafted on a bespoke basis and are tailored to meet the specific requirements of our clients, their property, and the transaction.
We know that you want your sale or purchase to proceed as smoothly and quickly as possible. We will actively manage the legal process.
What are searches?
In the context of real estate, "searches" refer to various investigations and inquiries conducted by solicitors or conveyancers on behalf of property buyers to gather essential information about a property before its purchase.
These searches aim to uncover any potential issues or liabilities associated with the property and the surrounding area.
The information obtained from searches helps buyers make informed decisions and ensures that they are aware of any existing or potential problems that might affect the property.
We will obtain searches of the property to find out as much as possible about it, in case there are any problems that could be expensive to fix or restrictions that might prevent certain uses.
Searches we typically obtain include:
Local Authority – this search reveals planning and building regulations information about the property including any breaches/enforcement action, compulsory purchase orders and proposals for road and rail schemes in the vicinity of the property.
Flood Risk – if the building is deemed to be at risk of flooding, this could significantly affect insurance premiums or make insurance unobtainable.
Drainage & Water – this search reveals information about water and drainage services at the property, the existence of pipes and sewers beneath it and connection details.
Environmental – this search assesses the environmental risks affecting the property, including the risk of it being designated as contaminated land.
Coal – this search assesses whether coal mining has taken place on or near the property and the likelihood of the property suffering from subsidence as a result.
We can provide a quote before ordering searches. A full suite of searches for a commercial property typically costs in the region of £800 - £1,000 plus VAT.
Do I need an EPC to sell my property?
You must obtain an EPC before a building is marketed for sale or rent. Where an agent has been engaged to sell or to rent out a building, they must include the energy performance indicator from the EPC in all commercial media/marketing material produced for that building. Certain properties are exempt from the requirement to provide an EPC and we can consider this with you, if relevant.
What if I need to borrow money to fund my real estate purchase?
If you need to borrow money to fund your real estate purchase, you would typically apply for a mortgage loan. A mortgage is a type of loan specifically designed for purchasing real estate, where the property you're buying serves as collateral for the loan.
We can advise you on the terms of any loan documentation your lender may require from a simple legal charge through to debentures, loan, facility agreements, personal guarantees, cross-company guarantees and third-party security. We are also able to advise on more complex finance structures such as where a lender taking an equity stake in a particular project.
In many circumstances, your lender will instruct us to act for them as well as for you in relation to your purchase. If the lender chooses to instruct a separate firm of solicitors, we will liaise with them regularly to provide all information they require, to enable them to progress the loan arrangement as quickly and efficiently as possible.
How much are legal fees and how long will my sale or purchase take?
Legal fees and time taken to sale or purchase depends on the specific requirements of each transaction in each case. For example, a contract to purchase a property conditional upon the buyer obtaining planning permission for redevelopment is more complex and time-consuming to draft, negotiate and agree than an unconditional contract for the buyer to purchase a property immediately following exchange.
Similarly, a contract conditional on planning will involve a delay between exchange and completion whilst the buyer attempts to satisfy the conditions, whereas an unconditional contract might exchange and complete on the same day.
We will provide a detailed fee quote and estimated timeframe at the outset of the transaction and will keep you fully informed of any anticipated changes to those, throughout.
Do I need a survey when buying commercial property?
It is highly recommended to have a survey conducted when buying commercial property.
A survey helps identify any structural, legal, or environmental issues that could impact the property's value, safety, and compliance with regulations.
It ensures informed decision-making and can potentially save you from costly surprises in the future.
What other commercial conveyancing expenses will I have to pay aside from legal fees?
Typical expenses for commercial conveyancing may include:
commercial property agent's fees (if appointed to assist in finding a property to buy and/or negotiate of heads of terms)
valuation, arrangement and lender's solicitor's fees (if you need a loan to fund the purchase)
surveyor's fees
search fees
Stamp Duty Land Tax -

calculate your costs here
Land Registry and Companies House registration fees
At the outset of each transaction, we will provide an estimate of our fees and the likely expenses we will incur during the transaction to include search fees, Stamp Duty Land Tax and registration fees.
Will I need to take commercial conveyancing advice from other professionals?
As a buyer, you should consult the following commercial conveyancing professionals:
a surveyor at an early stage to obtain a structural survey of the building
a valuer to check that the building is worth the price you have agreed to pay
a tax specialist to ensure that the proposed structure of the transaction is most efficient for your personal circumstances and to assess the tax consequences of the purchase
As a seller, you should consult:
a tax specialist to ensure that the proposed structure of the transaction is most efficient for your personal circumstances and to assess the tax consequences of the sale
if the contract is going to be conditional on works being carried out or the buyer obtaining planning permission you may need specialist planning and construction advice to assist you in agreeing on the terms of any conditions with the buyer.
Will VAT be payable on the purchase price?
Generally, the sale of commercial property is exempt from VAT. There are certain exceptions, including where the property is less than three years old or the seller has made an option to tax the property for VAT purposes with HMRC (sometimes called a VAT Election).
If any of these exceptions apply, it would mean that the seller would normally need to charge VAT on the purchase price. If the property is let to tenants, the sale may be treated as a Transfer of a Going Concern meaning that no VAT is chargeable.
We will consult with you and your tax advisers to ensure that the VAT position is established and dealt with appropriately in the contract.
What is a Transfer of a Going Concern?
A Transfer of a Going Concern (TOGC) is the sale of a business including assets which will be treated by HMRC as outside the scope of VAT and therefore no VAT will be payable if certain conditions are met.
If your sale or purchase is of a property which is occupied by a tenant who will continue to occupy after completion, this may qualify as a TOGC depending on the circumstances.
Our Commercial Property Team
Home-grown or recruited from national, regional or City firms. Our commercial property solicitors are experts in their fields and respected by their peers.
Contact Myerson Solicitors
Complete the form below, or alternatively, you can call Myerson Solicitors on: