What is a Real Estate Joint Venture (JV)?
A real estate joint venture is an arrangement between two or more investors that agree to work together, contribute capital and pool their expertise and resources to undertake a commercial property development or investment project.
A joint venture is a way for the JV partners to spread and dilute risk, since the joint venture partners will each contribute to the initial investment and will share any on-going liability for the real estate project. By joining forces, no party takes on the full burden of funding, acquiring or developing the property.
The various JV parties will participate and contribute in different ways, whether by providing secure funding or capital contribution, tangible assets such as land, or intangible assets such as industry expertise, connections and reputation/brand.
Despite working cooperatively in a real estate joint venture, each party to the JV agreement maintains their own unique business identity and remains as their own entity.
Real estate joint ventures continue to be popular among real estate investors as a route into new markets and sectors.
Myerson Property Portal
The Myerson Property Portal is a free tool for property investors and professionals.
With the Myerson Property Portal, you gain a competitive edge in the rapidly evolving property landscape.
Our free portal will help you manage your properties with ease and efficiency by providing a seamless service wherever you are.
Not just a management tool, it's an essential companion for the modern investor seeking to optimise their portfolio while staying updated on the latest in the property world.
So, what are the benefits?
Your own client area,

giving you access to all your legal documents, conveniently accessible anytime, anywhere!

Key legal information at your fingertips.
Must read property news, blogs and videos.
Access to free property events and training workshops.
A comprehensive collection of helpful property documents and guides.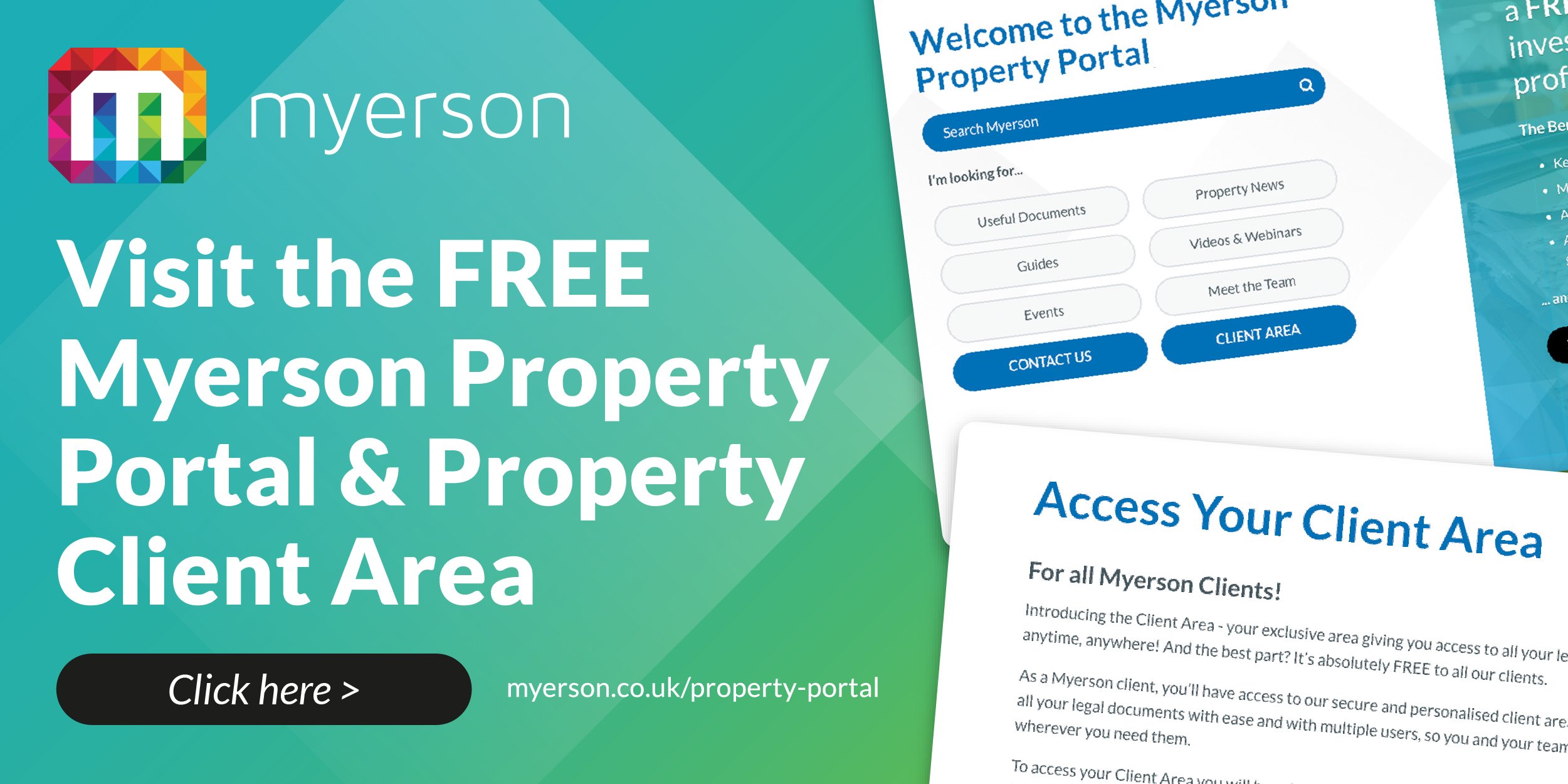 Our Property Joint Venture Experience
We work closely with our clients to make sure they receive accurate legal advice to achieve the best outcome for their unique circumstances.
Our experienced Commercial Property and Corporate solicitors have a wealth of experience dealing with joint venture agreements.
Examples of the real estate joint ventures we have advised on include:
Acting in relation to a property joint venture between the developer and funder in respect of a large residential development site in Bedfordshire.
Working closely with a leading International law firm on a real estate joint venture by a North West based brewery. This involved advising and preparing the overarching agreement for the development of four properties and the operation of those properties following development.
Joint Venture Agreement Structure and Terms
There are a broad range of joint venture structures to choose between. The structure used to conduct real estate joint ventures will usually take the form of a private company, a limited liability partnership (LLP), a partnership or simply a contractual agreement between the parties.
When deciding on the structure of a joint venture, there are several issues to be considered. Matters that should be discussed throughout investment or property joint ventures include:
That the structure chosen for the joint venture provides the best tax treatment for each of the parties as well as for the joint venture itself;
Identifying the underlying objectives of the joint venture parties;
The period of time during which it is intended the joint venture will operate;
Exit mechanisms at the end of the joint venture, i.e. sale;
The extraction and pooling of profits;
The resources that each joint venture partner will commit (an agreement documenting the transfer of assets and/or licence of intellectual property rights to the joint venture may be required) and decision making;
Requirements for employees and possibly TUPE;
Whether "deadlock" provisions are required (whereby in the event of a dispute, either party could buy out the other, the joint venture could be sold, the matter could be referred to arbitration or the joint venture could be put into liquidation);
Accounting considerations; and
Regulatory (e.g. competition) issues.
One of the key factors in deciding which structure to use will be the size and type of real estate investments in which the joint venture intends to acquire.
Careful consideration needs to be given to the purpose of the joint venture, which legal structure will be used, how the project will be funded, each party's capital contributions, the role each party will play in the project, and how profits will be maximised and distributed.
Why Work With Us?
We have been ranked as a Top Tier law firm by the Legal 500 for the last seven years.
Property investors and professionals can access our free and informative

Property Portal.
You will have access to more than 30 property experts across the Myerson Property Group, including commercial property, property litigation, construction, residential property conveyancing and development.
You will receive city-quality commercial property legal advice at regional prices.
We provide a partner-led service to ensure you receive the very best legal advice and commercially-minded support.
We have a large team which is capable of meeting your deadlines.
We understand that each transaction is bespoke to your individual circumstances and that you need support from a property lawyer who is experienced in dealing with a wide variety of clients and types of work.
We are a full-service law firm operating from a one-site office, which means our teams communicate effectively and efficiently.
We use the latest technology to ensure that we are working as efficiently as possible and that geographical distance is no bar to us from providing excellent client service.
We were the winners of 'Property Team of the Year 2021' at the Manchester Legal Awards.
We provide free newsletters and webinars to all our clients to keep you up to date with the real estate sector and changes in the law. Watch our latest property update webinar here.
Our Commercial Property Team
Home-grown or recruited from national, regional or City firms. Our commercial property solicitors are experts in their fields and respected by their peers.
Contact Our Commercial Property Solicitors
At Myerson, our Commercial Property Team offers advice on all aspects of commercial property law. For more information on the range of legal services we can provide, please fill out the form below or call: