Our Real Estate Finance Lawyers Service
If you are looking to finance your commercial property purchase or development, you may require bridging or short-term property finance to assist with a quick purchase (perhaps in respect of a property auction).
Or, if you are looking to refinance your existing property (or portfolio of properties) to, for example, facilitate redevelopment or refurbishments, we can assist with all associated loan and transactional documents.
This may include a simple legal charge through to debentures, loan or facility agreements, personal guarantees, cross-company guarantees and third-party security. Our real estate finance lawyers can also assist with discharging existing securities. Our expert solicitors will guide you through the process, which can appear daunting and filled with documentation and questions.
Our commercial property solicitors can advise on more complex financial structures, such as where a lender is taking an equity stake in a particular project or where property development finance is required to enable a project to get off the ground or cross the finish line.
Depending on the nature and complexity of the funding and property in question, your lender will often instruct us to act for them and you concerning your purchase or development.
Suppose the lender chooses to instruct a different firm of solicitors to represent them. In that case, our real estate finance lawyers will liaise with the other firm regularly and provide all information they require to enable them to conduct their due diligence and progress the loan arrangement as quickly and efficiently as possible.
We also act for lenders of various types and sizes, ranging from banks to specialist financiers, peer-to-peer lenders, short-term bridging lenders and private lenders, about the securitisation of property portfolios, including commercial property, residential property, development and mixed-use properties.
We also have wide-ranging experience in commercial property development finance, bridging finance for property developments, and more traditional commercial property finance. We offer a broad skillset and can advise clients on secured loan arrangements and recoveries.
Myerson Property Portal
The Myerson Property Portal is a free tool for property investors and professionals.
With the Myerson Property Portal, you gain a competitive edge in the rapidly evolving property landscape.
Our free portal will help you manage your properties with ease and efficiency by providing a seamless service wherever you are.
Not just a management tool, it's an essential companion for the modern investor seeking to optimise their portfolio while staying updated on the latest in the property world.
So, what are the benefits?
Your own client area,

giving you access to all your legal documents, conveniently accessible anytime, anywhere!

Key legal information at your fingertips.
Must read property news, blogs and videos.
Access to free property events and training workshops.
A comprehensive collection of helpful property documents and guides.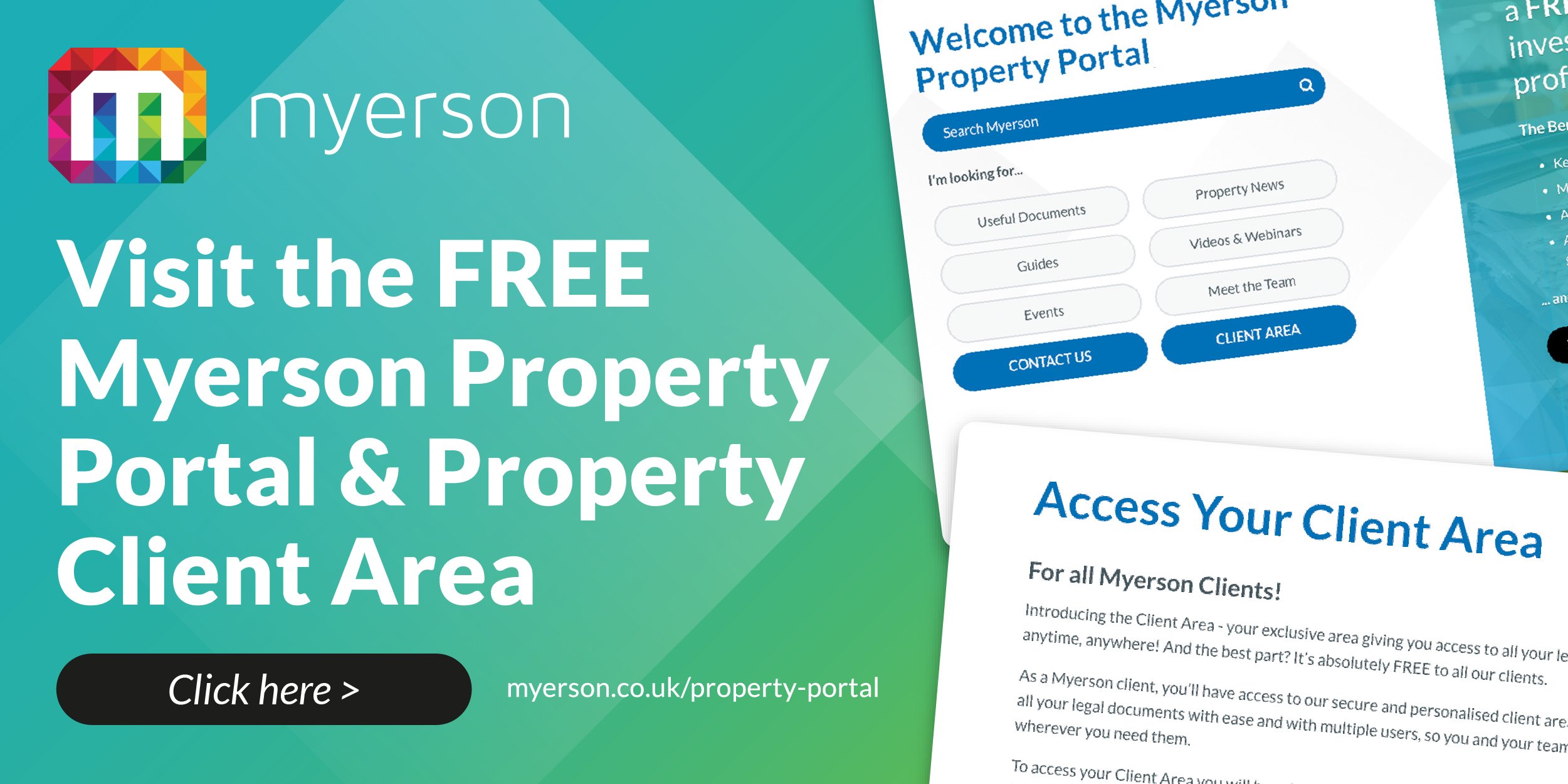 Our Commercial Property Finance Experience
Some recent financing and refinancing transactions that our real estate finance lawyers have acted on include the following:
Acting for Stroud Regeneration Limited with a refinance concerning the retail/leisure scheme known as Five Valleys in Stroud. The refinance facilitated the redevelopment of part of Five Valleys to create a new medical centre, a library facility and other complementary medical uses.

Acting for an overseas investor client in purchasing and subsequently financing a large number of high-value residential apartments in Manchester City Centre.

Acting with our construction team to advise the lender and borrower on the refinance of a large industrial estate to fund the further expansion of the estate.

Acting for our investor client with a refinancing of a portfolio of out-of-town retail estates to facilitate further development of those estates.

Acting for a client who operates a chain of climbing centres across the UK, with refinancing to assist them in the future development of their business.

Acting for the funder and borrower in respect of a multi-million-pound development finance project for a mixed-use building in Ancoats, Manchester.
Why Work With Us?
We have been ranked as a

Top Tier law firm by the Legal 500

for the last seven years.

Property investors and professionals can access our free and informative

Property Portal.
You will have access to more than 30 property experts across the Myerson Property Group, including banking, commercial property,

property litigation

,

construction

,

residential property conveyancing

and

development

.

You will receive city-quality commercial property legal advice at regional prices.

We provide a partner-led service to ensure you receive the best legal advice and commercially-minded support.

We have a large team which is capable of meeting your deadlines.

We understand that each transaction is bespoke to your circumstances and that you need support from a property lawyer experienced in dealing with various clients and types of work.

We are a full-service law firm operating from a one-site office, which means our teams communicate effectively and efficiently.

We use the latest technology to ensure that we are working as efficiently as possible and that geographical distance is no bar to us from providing excellent client service.

We were the winners of 'Property Team of the Year 2021' at the Manchester Legal Awards.

We provide free newsletters and webinars to all our clients to keep you updated with the real estate sector and changes in the law. Watch our latest

property update webinar

here.
Our Commercial Property Team
Home-grown or recruited from national, regional or City firms. Our commercial property solicitors are experts in their fields and respected by their peers.
Contact Myerson Solicitors
Complete the form below, or alternatively, you can call Myerson Solicitors on: