What is an overage agreement?
An Overage Agreement (whether a separate standalone agreement or within a property sale agreement) will set out in detail when a payment might arise and how the payment is to be calculated.
It is extremely important to receive specialist advice on overage arrangements as Overage Agreements are very complex and need to be drafted very carefully in order to ensure that they deal with matters correctly.
The most common reason for an overage payment arising is that there is some change of use of the property at a future point, usually as a result of planning permission being obtained.
Careful thought needs to be given, and professional advice sought, to a number of different aspects of the overage agreement.
What is the "Overage Period" to be?
For example how long is the obligation to make an overage payment to be applicable for? It could be one year, five years, ten years or longer.
What will "Trigger" payment of an overage payment?
Should this be the grant of a planning consent or the implementation of planning consent, or something else? The trigger event is vital and can lead to very different consequences.
How is the "Overage Payment" to be calculated?
Ordinarily the beneficiary of the overage payment will share a percentage in the uplift in value of the property that has occurred. What percentage should that be? How is the uplift in value to be calculated? There will usually be a "base value" and an "enhanced value" and the difference between the two is the uplift, but how are these defined and calculated
How is the "Overage Payment" to be secured?
This can be dealt with in a number of ways, depending upon the particular circumstances of the transaction.
We can assist with all aspects of Overage Agreements, whether you are buying a site that is subject to an existing overage agreement or whether you are selling a site and want to consider imposing overage obligations.
Myerson Property Portal
The Myerson Property Portal is a free tool for property investors and professionals.
With the Myerson Property Portal, you gain a competitive edge in the rapidly evolving property landscape.
Our free portal will help you manage your properties with ease and efficiency by providing a seamless service wherever you are.
Not just a management tool, it's an essential companion for the modern investor seeking to optimise their portfolio while staying updated on the latest in the property world.
So, what are the benefits?
Your own client area,

giving you access to all your legal documents, conveniently accessible anytime, anywhere!

Key legal information at your fingertips.
Must read property news, blogs and videos.
Access to free property events and training workshops.
A comprehensive collection of helpful property documents and guides.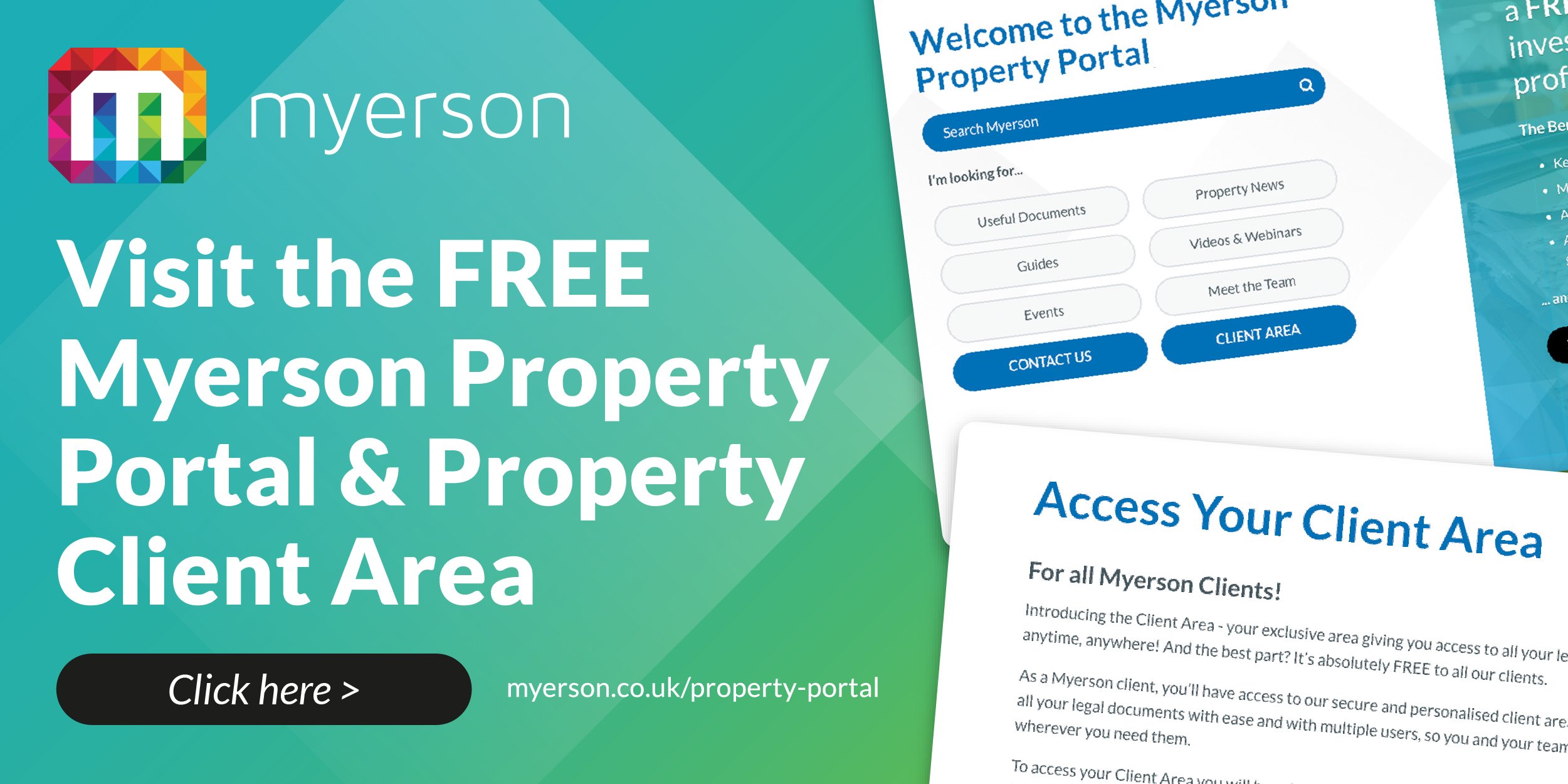 Why Work With Us?
We have been ranked as a Top Tier law firm by the Legal 500 for the last seven years.
Property investors and professionals can access our free and informative

Property Portal.
You will have access to more than 30 property experts across the Myerson Property Group, including commercial property, property litigation, construction, residential property conveyancing and development.
You will receive city-quality commercial property legal advice at regional prices.
We provide a partner-led service to ensure you receive the very best legal advice and commercially-minded support.
We have a large team which is capable of meeting your deadlines.
We understand that each transaction is bespoke to your individual circumstances and that you need support from a property lawyer who is experienced in dealing with a wide variety of clients and types of work.
We are a full-service law firm operating from a one-site office, which means our teams communicate effectively and efficiently.
We use the latest technology to ensure that we are working as efficiently as possible and that geographical distance is no bar to us from providing excellent client service.
We were the winners of 'Property Team of the Year 2021' at the Manchester Legal Awards.
We provide free newsletters and webinars to all our clients to keep you up to date with the real estate sector and changes in the law. Watch our latest property update webinar here.
Meet Our Commercial Property Solicitors
Home-grown or recruited from national, regional or City firms. Our commercial property solicitors are experts in their fields and respected by their peers.
Richard is the firm's Chief Operating Officer
Joanne is a Partner and Head of our Commercial Property Team
Mark is a Partner in our Commercial Property Team
Contact Myerson Solicitors
Complete the form below, or alternatively, you can call Myerson Solicitors on: