Our Service
The most common situation can be seen between unmarried cohabitees. Contrary to popular belief, in England and Wales there is no such thing as a "common law spouse". When a cohabiting couple separate, the rules for dealing with the property are the same as property owners who are not in a relationship and jointly own property unless you have children together.
How do disputes arise?
Many disputes over jointly owned property arise when a relationship breaks down and the owners disagree on whether the property should be sold, or the proportion of the equity each of them should receive when the property is sold, or ownership transferred.
What can I do?
If you own a property with someone else and cannot agree on either the sale of property or the splitting of equity, it is possible to apply to the Court to resolve the situation.
Applications are made to the Court under the Trusts of Land and Appointment of Trustees Act 1996 (TOLATA). The Court has wide-ranging powers under TOLATA and can make an order that the property be sold and/or how the equity should be split.
Myerson can help guide you through this process, whether you are defending or fighting for your rights in a property.
If you are involved in a dispute of this nature then you should consider severing the joint tenancy and whether you need to make a new Will.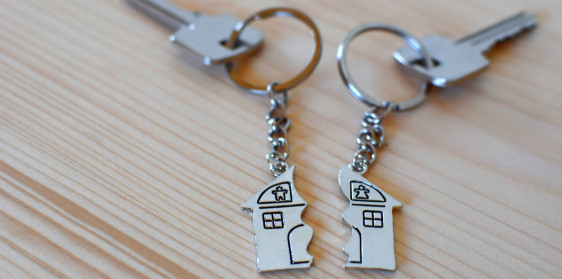 Watch the Property Ownership Disputes (also known as TOLATA) Video
Frequently Asked Questions
My partner and I own a property 50/50. Is it possible for our share in the property to change so that I am entitled to more than 50%?
If there is an express provision in the transfer document or in a declaration of trust the parties will be bound by those terms unless they can establish:
that the declaration was invalid or incorrect;
there has been fraud, mistake or undue influence; or
that there has been a subsequent variation.
This will be very difficult, but in some cases may be possible. If you think your circumstances may fit, please give us a call to discuss further.
My ex-partner and I jointly own a property. He moved out and I have continued paying the mortgage. Am I entitled to a greater share?
Paying the mortgage or other household expenditure does not entitle you to a greater share of the equity.
You may however be entitled to compensation for the money you have spent by way of "equitable accounting". This allows the Court to make adjustments to the money received by each party, even where shares are fixed.
Included in equitable accounting can be payments towards the mortgage or in some cases improvements to the property, or an obligation on one party in occupation to pay occupation rent to the other party post separation.
If you have excluded your ex-partner from the property then he may be entitled to ask you to pay a rent for occupying the property and may insist on conditions for your continued occupation of the property.
My ex-partner and I are splitting up. They are refusing to sell the property we own jointly. Can you help?
Yes. This is a classic case where an application can be made to the Court to order a sale of the property and for a determination as to how the proceeds of sale are to be divided.
I have separated from my ex-partner who I have lived with for years in a property in his sole name. Am I entitled to anything?
It is possible for a person who is not the legal owner of a property but has nevertheless made certain types of contribution towards it to acquire financial interest in it. This is however, a potentially complicated situation which would turn on the facts of each case.
If you are in this situation please give us a call to discuss.
If my ex-partner and I have children together does that mean I am entitled to more of the property?
If you have children together, you may have extensive financial claims pursuant to Schedule 1 of the Children Act 1989. These claims can include a housing claim, lump sum claim, a claim for maintenance over and above the Child Maintenance Service payments were appropriate and an order to pay your legal fees.
Housing claims are normally restricted to providing accommodation for you and your children whilst the children are under the age of 18 years or remain in full time tertiary education.
If you are in this situation then our experts will be able to assist you in relation to your TOLATA claim and Schedule 1 claim. Please do give us a call to discuss.
Why Myerson?
Myerson's Real Estate Litigation team are experts in cohabitation rights and property ownership disputes. We have a wide range of experience in these cases and can help you to understand your options and guide you through the process.
We can advise as to whether you may be entitled to bring a claim under TOLATA and we can assist you with any discussions and negotiations with your co-owner in order to resolve the dispute.
Myerson offers a range of funding options for claims of this nature. Our fees are fair, transparent and we are happy to discuss funding arrangements with you without obligation.
If you have any issues which you would like to discuss further, including forcing the sale of a property or want to dispute the share you believe you are entitled to, please do not hesitate to contact a member of our Real Estate Litigation team on 0161 941 4000 or via email.
Meet Our Specialists
Home-grown or recruited from national, regional or City firms. Our specialists are experts in their fields and respected by their peers.
Seán is a Partner in our Property Litigation Team
Laura is a Partner and Head of our Property Litigation Team
Jennifer is a Solicitor in our Property Litigation Team
Contact Us
Book your consultation using the below enquiry form. Alternatively, you can call us on
Latest News and Insights
Keep up-to-date with the latest legal news and our expert opinion.