Our Service
Why choose Myerson
Our team at Myerson has a breadth of experience to provide you with the expert legal support and quality of service you are looking for.
As part of our core values, we provide you with clear and transparent cost information from the outset.
Working in partnership with you on your requirements, matters are assigned to the most appropriate level of fee earner (always subject to partner supervision) to support you throughout your matter and ensure absolute cost effectiveness and efficiency.
We set out below a summary of our charges which, when combined with our high quality service, represents excellent value.
We would be happy to discuss our fees with you further, contact us here.
What's involved and how much will it cost?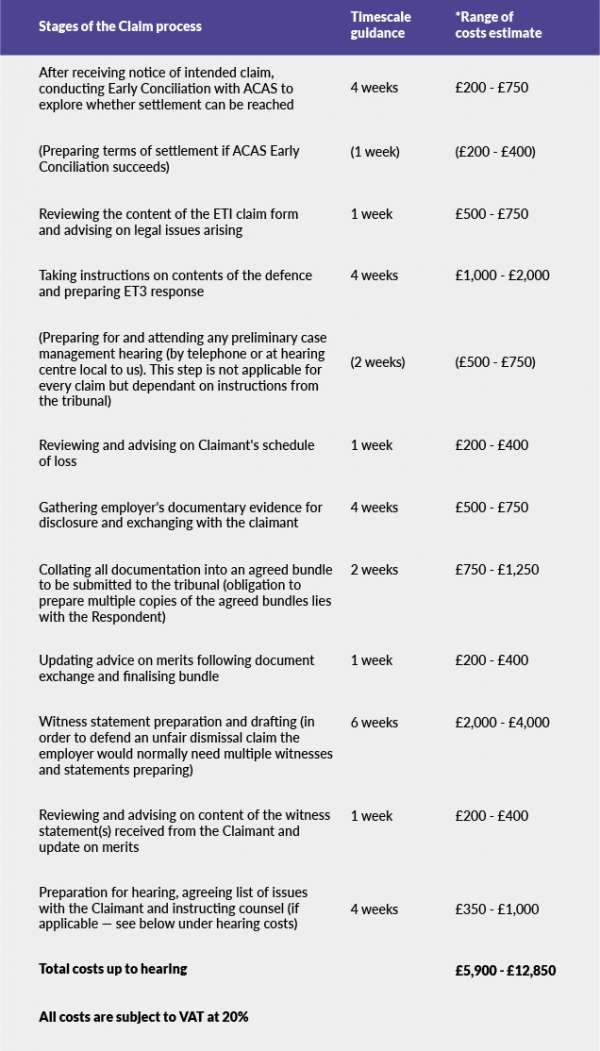 *Our estimated fees are for guidance only and are subject to assumptions around the amount of documentation involved and the complexity of a typical unfair dismissal claim.
Factors that can affect these costs:
Particular factors that may affect the complexity and costs when defending an unfair dismissal claim are:
Facing a claim that has been brought by a 'litigant in person' (i.e. a Claimant without legal representation)
Whether it becomes necessary to make or defend applications made to the tribunal, such as those to amend claims, provide further information, or strike-out applications
Making or defending a costs application
Where an unfair dismissal claim becomes more complex because the Claimant has pursued additional allegations, for example, that the dismissal was discriminatory or relates to whistleblowing
Where due to complexity, there is a requirement for a detailed case management approach and/or case management hearings
The number of witnesses required to defend the claim, or the amount of documentary evidence
Hearing Costs
If the matter proceeds to a contested tribunal hearing, then the costs of our attendance will depend on the length and location of the hearing but are usually (excluding disbursements) in the region of:
One-day hearing: £2,000 plus VAT (including preparation time)
Multi-day hearings: £2,000 plus VAT (including preparation time) for the first day, and £1,250 plus VAT for each subsequent day
Alternatively, we can instruct a specialist barrister to attend and represent you at the tribunal hearing. Their fees would depend upon the seniority of the barrister, and we will discuss potential fees with you. We are often able to negotiate competitive fees with a number of barristers' chambers. When a barrister is instructed our costs would be limited to our attendance at the hearing to provide ongoing instructions to the barrister and to keep a record of proceedings, which is usually at the rate of in the region of £400 plus VAT per half-day of attendance.
Hourly rates of our solicitors
The cost estimates in the table above are based on the following hourly rates of our solicitors:

The estimates in the table are for guidance only, and a more precise estimate will be provided on a case-by-case basis that is tailored to the specific claim.
All rates are subject to VAT at 20%.
Other Employment Claims
We can also assist with the defence of any other type of Employment claim, in addition to unfair dismissal claims, including claims relating to discrimination, whistleblowing, redundancy and defective consultation, and claims involving trade unions or elected representatives. We will always discuss costs with you for each stage of any claim.
Our Team
We have 6 members of our employment team who may work on your matter. Further details on each of them can be found by clicking on their names below. All of the members of the team will be supervised by one of the partners in our Employment team.
Contact Us
You can contact a member of our team using the contact form below or by phoning us on