Biography
Jo has worked as an employment law specialist for over 25 years at a number of leading commercial firms. She is a graduate of the University of Leeds and joined Myerson from Eversheds in 2009; she was promoted to partner in 2013. The independent directory, the Legal 500, describes Jo as providing "sound advice – she is professional and pragmatic", also "she understands the commercial realities and advises accordingly". The seven-strong Employment team at Myerson is described as "excellent".
Jo advises on all aspects of employment law and is a trusted business adviser to major clients across diverse industry sectors. She is known for her commercial approach and good humour. She is also an experienced Employment Tribunal advocate and deals with complex and high-value employment disputes and claims.
Jo is also very experienced in advising both employers and executives in relation to executive terminations and settlement agreements, often involving complex remuneration and exit arrangements across various sectors.
Jo also has an interest in compliance matters, advising clients on matters such as data protection, anti-bribery compliance and modern slavery.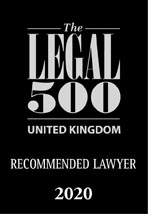 Expertise and Past Cases
Jo also has extensive expertise in advising employers in relation to the employment law aspects of corporate and commercial transactions, insolvency, restructuring and redundancy.
Jo is a member of Myerson's compliance team supporting clients in areas such as Anti-Bribery and Corruption, Modern Slavery, GDPR and data protection.
Examples of Jo's notable recent work include:
Advising a number of commercial clients on the legal implications of the European Court of Justice's decision in the case of Bear Scotland relating to the calculation of holiday pay, including advice on strategy and defending a number of multi-party claims in the Employment Tribunal
Conducting Employment Tribunal proceedings in a number of different cases involving allegations of whistleblowing, including recently successfully defending a major local employer in a claim of automatic unfair dismissal on whistleblowing grounds;
Advising our commercial clients on all aspects of compliance and in particular recent hot topics such as, Anti-bribery and corruption, Modern Slavery and data protection.
Providing strategic and hands on advice in relation to a contentious restructuring programme for a high profile organisation involving collective redundancies and successfully managing a dispute between the employer and its recognised unions;
Planning, designing and implementing for a major manufacturing client a process to manage the transfer and relocation of part of its business in a unionised environment in the context of a corporate transaction;
Managing, in accordance with our established process, a group exercise advising a large group of employees on settlement agreements in a collective redundancy exercise;
Representing many executives leaving household name employers in relation to settlement arrangements and advising in relation to restrictive covenants, compensation and executive incentives e.g. shares, share options and other LTIPs.
Specialist Areas
Our legal services are underpinned by our knowledge and expertise in the following areas.