Biography
Jo is a nationally recognised employment law specialist. She has been recommended by the independent legal directories for many years and is a Legal 500 "Leading Individual". She is described as "bright, decisive, proactive and switched on", providing clients with "astute advice, straightforward thinking and client focus".
Jo has practiced employment law for 25 years. She is a graduate of Cambridge University and was a partner at Addleshaw Goddard before she joined Myerson in 2007 to head up the firm's team of employment specialists. She now leads a team of seven experienced employment lawyers which is recognised by the Legal 500 as "excellent".
Jo's clients include national and international household name businesses who trust her to support them with the most complex and sensitive employment law matters. She also acts regularly for senior executives, including FTSE 100 and 350 board members, directors of substantial owner-managed businesses and partners in significant legal and accountancy practices.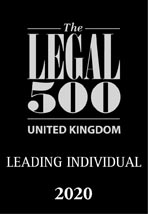 Expertise and Past Cases
Jo has significant experience of dealing with strategic advice on significant HR projects, Employment Tribunal claims, discrimination matters and the employment aspects of corporate and commercial transactions. She also regularly provides training to clients on HR and employment law issues.
Her expertise includes:
Major reorganisations and redundancy exercises;
Collective consultation, trade union recognition and industrial relations issues;
Complex disciplinary and grievance matters;
Negotiating senior executive terms at the start of a working relationship, including bonus, profit sharing and share options;
Negotiating exit arrangements, including post termination restrictions and announcements (including stock exchange announcements);
Enforcing and defending disputes over post termination and confidentiality obligations.
Examples of notable recent work that she has carried out are:
Hands on involvement in a high profile site closure, including collective redundancy consultation affecting several hundred employees;
Successfully stopping a union challenge to a major reorganisation of a household name client;
Helping various large law firms to deal with the most sensitive of HR issues and Employment Tribunal claims, defending their positions robustly but without damage to their reputation or significant financial impact;
Successfully handling a multi-million pound whistleblowing claim on behalf of an employer over several years, ultimately achieving settlement at a nominal level;
Successfully enforcing restrictive covenant and confidential information protection on behalf of a household name client against a key departing executive who had taken a role with a competitor;
Supporting various employers exiting directors from their businesses, and directors facing removal from their roles, often where six or seven figure packages are involved. This has included advice on strategy, negotiating exit terms, review of related share arrangements and communication to the business about departures.
Specialist Areas
Our legal services are underpinned by our knowledge and expertise in the following areas.