Biography
Sarah advises on a wide range of family matters including divorce, dissolution of civil partnerships, financial settlements, separation, co-habitation, pre and postnuptial agreements, disputes regarding children and domestic violence.
She is particularly experienced in matters concerning complex children matters and has experience of dealing with applications for child arrangement orders, prohibited steps orders, specific issue orders, and special guardianship orders.
She has significant advocacy experience, having regularly appeared in the Family Courts representing clients in relation to private law children matters, financial order proceedings and domestic violence matters.
Sarah is a committed member of Resolution and has achieved specialist accreditation in private children law and domestic violence.
Sarah attended Altrincham Grammar School for Girls and studied history at Leeds University where she gained a 2.1(Hons) degree. She went on to complete the Graduate Diploma in Law and LPC at Manchester Metropolitan University attaining a commendation for the LPC.
Sarah undertook her training contract with Russell and Russell Solicitors where she qualified in 2010 before moving to Chafes Hague Lambert Solicitors. Sarah joined Myerson in October 2018.
Sarah has been practicing family law since 2007 and obtained her Resolution Accredited Specialist status in 2016.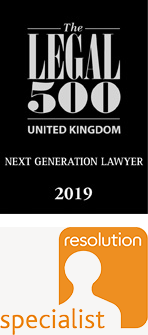 Expertise and Past Cases
Examples of Sarah's recent cases:-
Representing a mother in Children Act 1989 proceedings involving serious allegations of domestic violence against the father and obtaining protective orders for the mother and the children
Representing a wife in Financial Order proceedings involving a lack of disclosure from the husband and obtaining a final order for the wife including a significant pension sharing order in her favour and cost order against the husband
Representing a father in Children Act 1989 proceedings and successfully obtaining an order for the child to live with him due to safeguarding concerns in relation to the mother
Representing a wife and successfully enforcing a final financial order to enforce an order for sale and obtain possession of the family home
Representing a mother and successfully obtaining an order allowing her to permanently relocate to Poland with her child
Representing a husband in Financial Order proceedings with assets included a large property portfolio
Representing parties in divorce proceedings with international elements
Representing grandparents and obtaining a special guardianship order to provide stability for the grandchildren living in their care