Biography
Suzanne trained and qualified at DLA Piper and developed her litigation practice at Pannone LLP and Pannone Corporate LLP.
Suzanne acts for a variety of commercial and individual clients, and has extensive experience in acting on large scale complex commercial disputes.
Suzanne advises and represents clients at the pre-action stages of a dispute as well as in High Court and County proceedings.
Suzanne prides herself on her high standard of client service and meticulous approach to her work.
Studied at University of Liverpool and gained Distinction on the Legal Practice Course at College of Law, Chester.
Trained at DLA Piper and qualified into the Commercial Litigation department in 2003.
Joined Pannone LLP's Dispute Resolution team in 2007.
Joined Pannone Corporate LLP in January 2016.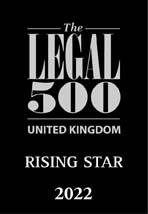 Expertise and Past Cases
Suzanne has particular experience in the following practice areas:
professional negligence claims against professionals (particularly against solicitors and tax advisors)
freezing injunctions and other applications for injunctive relief
warranty claims arising from business and asset sales
claims involving breach of fiduciary duty
commercial fraud
commercial agency claims (acting for both principals and agents)
contract enforcement and termination
partnership disputes
joint venture disputes
claims involving restraint of trade and breach of restrictive covenants
recruiter claims
Recent examples of cases:
Acting for a national company in a forensic investigation concerning directors' duties and, in particular, the failure to implement adequate safeguarding measures.
Defending a local authority in a circa £40 million multi-party negligence claim arising from a fire at the client's business premises.
Obtaining ex parte injunctive relief arising out of the exercise of an option agreement.
Acting for a national accountancy firm in the defence of a complex partnership dispute.
Acting for a local social housing provider in a dispute arising from the termination of a joint venture agreement.
Acting against a leading supermarket chain in a commercial agency dispute resulting in a substantial compensation payment.
Acting for two individuals in a multi-million pound civil fraud claim, an associated professional negligence claim against Queen's Counsel, and a claim on the Compensation Fund of the Council for Licensed Conveyancers.
Acting for 2 individuals in a complex professional negligence claim against a firm of solicitors arising from a property transaction.